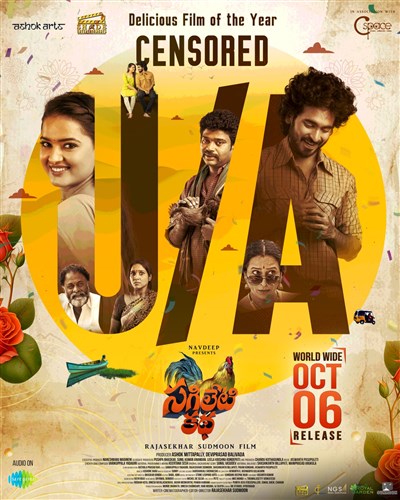 'Sagileti Katha', produced by Ashok Arts and Shade Entertainment, is led by the talented Raviteja Mahadasyam and Vishika Laxman. Set in a Rayalaseema village, this content-driven film is written, edited, shot and directed by newcomer Rajasekhar Sudmoon. The comedy-drama is presented by hero Navdeep's C-Space and is jointly produced by Deviprasad Balivada and Ashok Mittapally.
The trailer has already been released and is a big hit. The movie is winning the hearts of the listeners, one song at a time. The film, in the meantime, completed its censor formalities and it has been awarded a U/A certificate. Censor officials were said to be very impressed by the film's content and its rooted story.
The censor team showered praises on the film saying, the setting is very natural and Will definitely impress audience. They expressed their hunger to eat chicken after seeing the film (smiling) and wished team Sagileti Katha all the best. The production values, rooted story and brilliant performances are said to be the other major highlights of the movie. Makers also announced the release date today.
The film will be releasing in theatres on October 6th.
Cast:
Ravi Mahadasyam, Vishika Laxman, Narasimha Prasad Pantagani.
Crew:
Writer, Director, Cinematographer, Editor: Rajasekhar Sudmoon
Co-Writer: Shashikant Billapati, Mani Prasad Arakula
Producers: Ashok Mittapally, Deviprasad Balivada
In association with: C space
Executive Producer: Naresh Madineni
Associate Producers: Pushpabhaskar, Sunil Kumar Anandan, Leela Krishna Kondepati
Line Producer: Chandu Kothagundla
Music Director: Jaswanth Pasupuleti
Background Music: Sanal Vasudev
Lyrics: Varikuppala Yadagiri, Pavan Kundani, Rajsekhar Sudmoon, Shashikanth Billapati, Jaswanth Pasupuleti
PRO: Tirumalasetty Venkatesh
Art Directors: Hemant G, Aishwarya Kulkarni
Costume Designer: Harshanjali Senikeshi
Sound Designer: Yati Raju
Sound Mixing: Shyamala Sikdar
DI: Konduru Deepak Raju
Publicity Designer: M.K.S Manoj