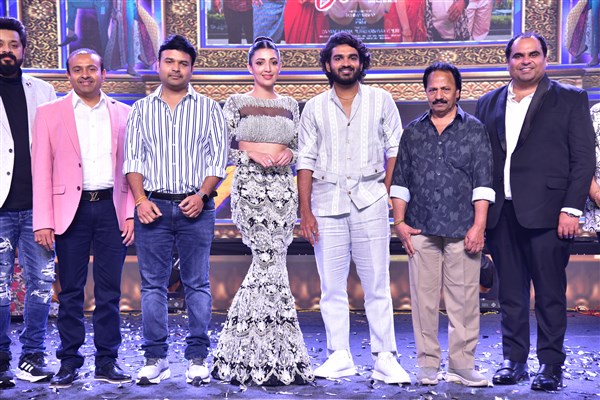 As Kiran Abbavaram's much-awaited flick Rules Ranjann is arriving on October 6, the entire team celebrated the pre-release event on Saturday here in Hyderabad. Starring Kiran Abbavaram and Neha Shetty in the lead roles, Rules Ranjan is directed by Rathinam Krishna and produced by Divyang Lavania and Murali Krishnaa Vemuri under the banner Star Light Entertainment Pvt Ltd.
Other actors also include Meher Chahal, Vennela Kishore, Subbaraju, Hyper Aadhi, Viva Harsha, Annu Kapoor, Atul Parchure, Ajay, Makarand Deshpande and Abhimanyu Singh.
AM Rathnam: First I should thank the producers for bankrolling Rules Ranjann keeping faith in my son Rathinam Krishna's vision. I've seen the movie, and it's pleasantly entertaining. If songs are catching the attention of film lovers, the movie has made half the mark towards becoming a blockbuster. I've been in the film industry for more than 50 years. I worked with AR Rehman and other biggies of the industry. I even worked under legendary actor NT Rama Rao garu. I've worked with mythological films, socio-fantasies and crime thrillers in the past, later because of the advanced technology our Telugu film industry could make films on a massive scale. Actually, when the story was narrated to Kiran Abbavaram, everyone thought I would produce the film. I am sure I will plan a movie which I will direct Kiran and also produce it.
Neha Sshetty: I thank all Telugu audiences for the love, support and appreciation. And those who made the signature step of Sammohanam went viral on social media. After my character as Radhika, this is happening for the second time. Rules Ranjann is a complete paisa vasool entertainer for Telugu audiences. Director Rathinam Krishna is a very passionate filmmaker. I know how many sleepless nights he had. For more than anything else, I wish the film gives him the desired success.
Rathinam Krishna: Every youth has some ambition in his life. A good job soon after graduating from college. Kiran Abbavaram gets a cushy IT job soon after college. Some youngsters have dreams of other sorts, say a good girlfriend after getting a job. Rules Ranjann is a simple storyline told in an entertaining way. Hyper Aadi, Vennela Kishore, Subbaraju Viva Harsha will thoroughly entertain audiences.
Kiran Abbavaram: I thank my producers, technicians, co-stars, artistes and director Rathinam Krishna for keeping faith in me and my efforts. I thank numerous fans who have been with me in my lows and highs. I am sure Rules Ranjann will entertain everyone.
Lyric writer Rambabu Gosala: Since childhood days, whenever we saw AM Rathnam presents we used to think the film was going to be a blockbuster. Finally, my dream came true with Rules Ranjann. It's a great feeling to have worked with the producers of the film. I wrote the two songs — Sammohanuda and Nalo Nenu Lenu which have become chartbusters. Thanks to everyone who made them successful on social media. I wish that Rules Ranjann would become as successful as Arjun Reddy and Kanthara.
Singer Sarath Santosh: I thank the makers for offering the chance to sing the song Naalo Nenu Lenu. A special mention to music composer Amrish garu for the beautiful melody. And inputs given by director Rathinam Krishna garu have come handy for me, I am so thankful to him.
Senior character artiste Madhu Mani: Good evening, everyone who attended this event. I played the role of the hero's (Kiran Abbavaram) mother in the movie. It is an entertaining role. I was introduced to director
Rathinam Krishna garu through our co-director Ranganath. That's how I happened to do this character. It was so lovely working with the director Krishna garu for the freedom that you have given to me. I wish Rules Ranjann would become a massive hit and bring money to producers. I also wish the makers should come up with another entertaining subject before audiences.
Art director Sudheer Macharla: Congratulations to the whole team, Rules Ranjann will become a sure shot hit. It will be a fun ride on October 6. I urge everyone to watch the film with your family.
Cinematographer Dilip Kumar: We've given our best for the film. It's an effort from the whole team Rules Ranjann. We wish Rathinam Krishna garu the very best ahead of the release.
Producer Ambika Krishna: I know Murali Krishna garu and Divyang garu for the last one year. We collaborated for multiple businesses. I feel that since Murali garu speaks so many rules naturally, the film's title is named Rules Ranjann. Songs have become a massive hit. If one has to write the history of Telugu cinema, there should be a special page dedicated to A.M Rathnam garu. What a filmography! Be it the superhit song Nelluri Nerajana.. or be it the film Bharateeyudu starring Kamal Haasan, or for that matter the blockbuster of Pawan Kalyan's Kushi. And his son has ventured into filmmaking, I wish him good success. Amrish, the son of veteran actress Jaya Chitra, has scored the music for the songs. Kiran Abbavaram, although he is young, looks a very down-to-earth individual, and a very polite gentleman. I wish Neha Sshetty great success.
Music director Amrish: I've been a great fan of A.M Rathnam sir for his films irrespective of languages. Even 7G Rainbow Colony, which was re-released recently, has been a hit in theatres. I thank Rathnam sir. Hyper Aadhi garu's comedy is amazing. As a composer, I'd been waiting for the second half to come during the re-recording work. Vennela Kishore has done an extraordinary performance. Kiran Abbavaram garu's energy and timing are amazing. Neha Shetty garu was amazing. Singer Sharath too has done a great job. I am thankful to our makers Murali Krishna garu and Divyang Lavanya garu. I thank my mother Jaya Chitra, I would not imagine my life without her. More than a director, Rathinam Krishna is like my elder brother. He sat and spent so many hours with me in the process of making the project work.
Filmmaker Anudeep KV: I wish and pray Rathinam Krishna score a hit with Rules Ranjann. Our hero Kiran has amassed a good fanbase with 'Raja Vaaru Rani Gaaru', I wish you scale more heights with this film. Music composer Amrish garu's music looks amazing to me. I wish audiences
Hyper Aadhi: Rules Ranjann is going to be an out-and-out family entertainer. On behalf of the team Rules Ranjann, I congratulate all the film directors, technicians and artistes who have been raising the bar of Telugu cinema at the global stage. There is so much to learn about actors from Telugu cinema. Cinema is the only stressbuster for all other professions like doctors, engineers, bankers etc. Memers, trollers, film reviewers are all part of the Telugu cinema. Hats off to their creativity.
Producer Murali Krishna Vemuri: Good evening to everyone, and thank everyone for gracing the event on this occasion. The script realisation happened with Rathinam Krishna garu and AM Rathnam garu. He is a legend in his own right. A stalwart of Telugu cinema, he has been a beacon of light. And his son Rathinam Krishna garu is so meticulous with his work. He has put in relentless efforts. Rules Ranjann is pure fun to watch on the big screen, I am sure audiences will enjoy it when the film arrives in theatres on October 6. I thank all the artistes and technicians who worked behind the project.
Producer Divyang Lavanya: Respected by all the film fraternity, I want to thank each and every member of Rules Ranjann. Anything you want to achieve in life can happen only with a good team. Without people around, nothing you can achieve in life. My bond with Murali Krishna Vemuri is inseparable.