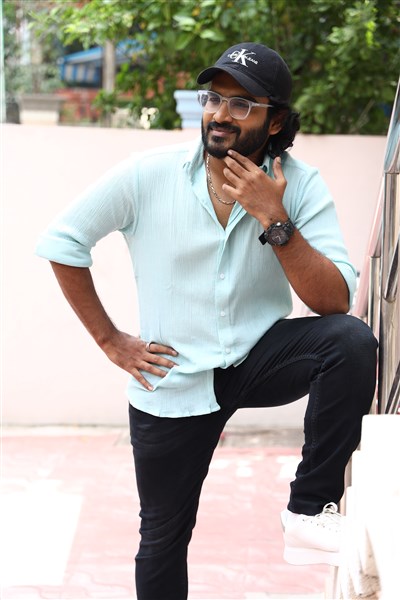 Starring actors Kiran Abbavaram Neha Sshetty in the lead roles, the much-awaited movie Rules Ranjann is scheduled to arrive in theatres worldwide on October 6. Ahead of the film's release, protagonist Kiran Abbavaram spoke to journalists on Wednesday. Here are the excerpts from the interview.
What kind of a rulebook does Rules Ranjann follow?
Don't go by the title Rules Ranjann, there is nothing specific as far as rules are concerned, the film is a wholesome comedy. I've been saying this ever since we kickstarted the promotional activity. Audiences should only expect unlimited comedy. Like the way you people felt watching the trailer, I can say audiences keep laughing at the situational comedy for the entire runtime of two hours and thirty minutes.
Rules Ranjann is directed by Rathinam Krishna, the son of prominent producer-director A.M Rathnam, produced by Murali Krishna Vemuri and Divyang Lavania under the banner Star Light Entertainment Pvt Ltd. It also features Vennela Kishore, Subbaraju, Viva Harsha, Hyper Aadhi, Meher Chahal, Ajay, Makarand Deshpande, Atul Parchure, Annu Kapoor and Abhimanyu Singh in key roles.
Q) Comedy films have come and gone, what's new that Rules Ranjann would dish out on the platter?
It is for the first time, I shared screen space with actors like Vennela Kishore and Hyper Aadhi. All my earlier films were all subject-driven and had less scope for comedy. This story of Rules Ranjann has situational comedy where you unknowingly fall in love with characters that keep chipping in at regular intervals. Comedy is more injected into the drama.
Tell us more about your character in the film.
Basically, Mano Ranjan is an innocent chap. I was a little soft in 'Raja Varu Rani Garu'. You must have come across a few children who are nursed so carefully and affectionately, nursed within the precincts of his house. All comforts are at their disposal. So Mano Ranjan is someone who had that kind of upbringing. He doesn't know how to react if someone blames him.
When he faces certain situations, he places rules on the people who restrict him. That's the most entertaining part in the film. When everything goes smoothly, a girl enters into his life. How does Mano Ranjan turn into Rules Ranjann? How entertaining his life is going to be further is the story.
You were a software engineer earlier before coming to the film industry. How relatable is this character to your real life?
Yes, quite relatable. I worked as a software engineer. While shooting the film, I recalled the days back in the past as a software engineer. The working days in Chennai. I wouldn't know the language there. Hailing from a rural village, I was not even aware of how a cafeteria would be. It was difficult for me to adapt to that work culture, office etiquette, etc. All those have been incorporated into the film.
What made you accept the film when Rathinam Krishna narrated the story to you?
It was during 2021, I happened to meet Rathinam Krishna. I believe the story has the potential to become a good visual-comedy drama. It's a fun riot all the while. Vennela Kishore plays the casting director in Bollywood. He would bring a girl every day to the room and face the music every time he encountered me. These situations evoke laughter throughout. Even the tracks of actors Viva Harsha and Subbaraju.
—
–
Thanks & Regards
L.VENUGOPAL
journalist, P.R.O
+91 9949912346