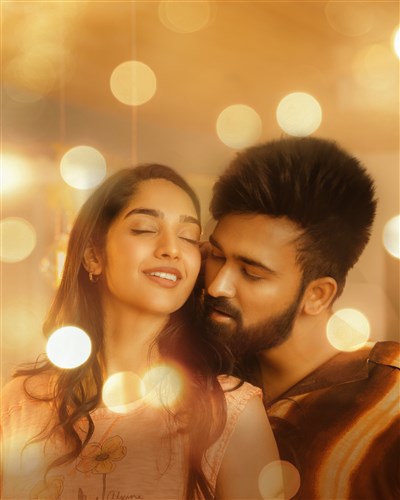 Dilraju Productions, a prestigious Production house which created history with small film Balagam is now ready to entertain audience with thier upcoming film titled Aakasam Dhaati Vasthava. The film stars famous choreographer Yashwanth Master and talented Malyalam actress Karthika Muralidaran, CIA fame in the lead roles.
With this film, a debutante named Sasi Kumar Muttuluri will be turning director. A musical and dance based love story, titled as "Aakasam Dhaati Vasthava" is making headlines. After the beautiful teaser and magical first single Unnano Leno, today makers unveiled the film's second single titled Srungara.
This melodious magic is sung by sensational singers like Sanjith Hegde and Malavika Shankar. Everyone will fall in love with this music as they witness Yash and Karthika Muralidaran's beautiful chemistry. The soothing music scored by Karthik is just magical. The song is written by Sasi Kumar Muthiluri.
The songs begins with both Yash master and Karthika Muralidaran moving in together. And it slowly takes us into thier beautiful world of romance. The catchy tune express unconditional love between the leads. This romantic melody grows on everyone and the romance is just an eye feast to watch.
After historical hit Balagam, the young producers Harshith Reddy and Hanshitha Reddy producing Aakasam Dhaati Vasthava under Dilraju Productions. Shirish will be presenting. Top notch technicians working on the film. More details will be announced soon.
Starring: Yashwanth Master, Karthika Muralidaran and others
Technical Team:
Banner: Dilraju Productions
Producers: Harshith Reddy, Hansitha Reddy
Music Director: Karthik
Written & Directed by: Sasi Kumar Muttuluri
Song Link: https://www.youtube.com/watch?v=1A5hWzS00Nc