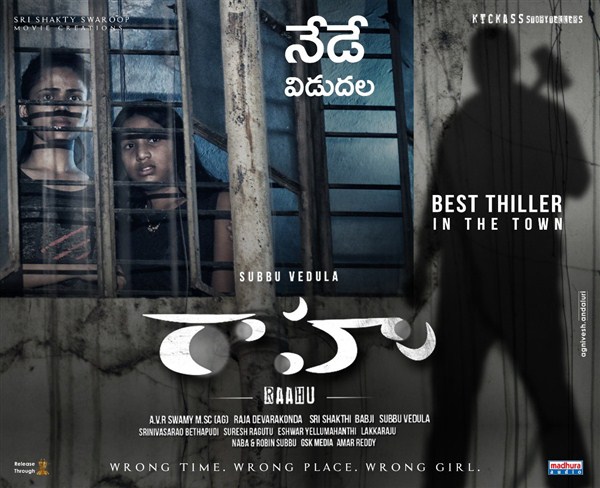 Movie: Raahu
Written & Directed By: Subbu Vedula
Producers: AVR Swamy, Raja Deverakonda, Sri Shakthi Babji, Subbu Vedula
Starring: AbeRaam Varma, Kriti Garg, Chalaki Chanti, Kalakeya Prabhakar, And Others
Music: Praveen Lakkaraju
DOP: Suresh Ragutu, Eshwar Yellumahanthi
Editor: Amar Reddy
www.moviemanthra.com rating: 3.25/5
Release Date;28 /2 /2020
Story:
A childhood trauma leaves Bhanu with hysterical blindness – a condition wherein the sight of blood leaves her temporarily blinded. Fate eclipses her once again when a killer causes more bloodshed than she ever imagined. This time, will there be light after the darkness for Bhanu? What did she do to overcome this? How did she overcome it? What happens in the end? Forms the story of the movie.
Performances:
Performances wise, everyone did their best in the film. The lead actors have impressed with their act and made sure they are conveying the right emotion in the right manner, which is an interesting thing. AbeRaam Varma who earlier acted in the films Hora Hori and Manu is good in his part and played a very exciting character. The actor will have a lot of bright scope in the industry and he will surely sustain as a actor. Kriti Garg is impressive with the looks as well as the performance. She has given her best for the movie. Chalaki Chanti, Kalakeya Prabhakar and others are also good as per their character limitations and impressed all.
Technical Aspects:
The Movie Raahu is very sound technically. The film unit has spent the right amount on the film to make it look technically grand. The film's producers AVR Swamy, Raja Deverakonda, Sri Shakthi Babji, and Subbu Vedula maintained proper production values in the movie. The makers worked really very hard in getting everything right for the film. The visuals of the film are grand. The portions shot in the USA are colorful and impressive. Praveen Lakkaraju's music and the cinematography by Suresh Ragutu, and Eshwar Yellumahanthi is so good. Amrar Reddy is good with editing too. All the others gave their best.
Plus Points:
Story
Direction
BGM
Performances
Minus Points:
Slow Narration
Verdict:
The film has got an interesting concept that impresses everyone. The story line looks thing but has the scope to entertain the audiences. The thrilling elements of the film are very good. The makers worked really hard to set everything in the first half and unfold one by one in the second half. The treatment and the way the screenplay is penned is the best thing about the film. There are a lot of other exciting elements in the film that one can watch on the big screen. The director must be appreciated for a spectacular job he did in pulling out this thriller.
Punch Line: Rahu is an engaging thriller