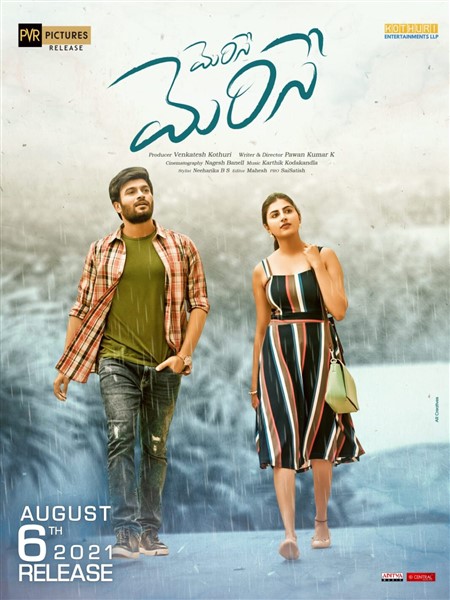 Film: Merise Merise
Cast: Dinesh Tej, Swetha Avasthi, Sanjay Swaruo, Guru Raj, Bindu, Sandhya Janak, Mani Sashank, Nanaji and others.
Production: Kothuri Entertainments
Producer: Venkatesh Kothuri
Writer and Director: Pawan Kumar
Cinematography: Nagesh Bannel
Music: Karthik Kodakandla
Editor: Mahesh
moviemanthra.com;Rating: 3/5
Release date ; 6/08/2021
Story:
Vennela (Swetha) wants to be an independent woman who wants to earn on her own and not depend on her husband. She choses fashion designing as a career. But, Vennela's would be (Sanjay Swarup)'s family is not interested in fashion designing. What did Vennela do now? How did she react to it? What decision did she take in the end? Forms the film's story.
Review:
The film traces the journey of a young couple that decides to get married. The film will showcase how couples think in the current generation and how they have an opinion about marriage. The film also showcases the opinions of parents of current days about how they want their children to settle with someone of their choice. There are many interesting scenes around this concept. The story and screenplay is impressive in the film.
The film looks rich on the screen. We have seen in many films where the filmmakers showcased the fashion designers as drug addicts but the film is a big change in that aspect. The way heroine's character has been penned is thought-provoking and it gives a good feeling to the audience. It shows that a lot of girls are ambitious.
The director tried to play different characters with different characterizations. Every character in the film tells us a story and the film has got an interesting message going on underlyingly.
The performances of the lead cast is impressive. Dinesh Tej, Swetha Avasthi, Sanjay Swarup, and others performed to their best. They came up with solid performances. Swetha Avasthi looks extremely cool on the screen. Her styling is on point. The visuals of the cinematographer is impressive. The editing is in a gripping manner. The producer spent good money without getting compromised.
Plus Points:
Story
Screenplay
Music
Camera Work
Minus Points:
Few boring scenes
Punch Line: Merise Merise is a feel good film