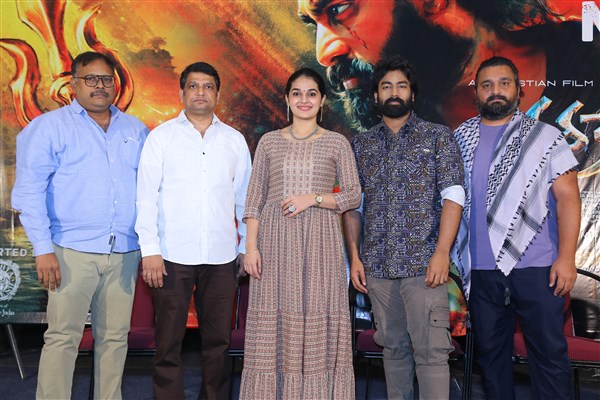 Rakshit Atluri of Palasa fame is playing the hero in the movie "Narakasura". Aparna Janarthan and Sankeerthana Vipin are playing female lead roles in the film. This movie is being produced by Dr. Ajja Srinivas under the banners of Sumukha Creations and Ideal Film Makers. Sebastian Nova Acosta Jr. is directing the film. On November 3, the movie "Narakasura" is getting ready for a grand release in theaters by Usha Pictures. The movie team participated in the press meet organized on this occasion,
Director Sebastian said – When everything was shut down during the lockdown, our producers Raghu and Srinivas called me and gave me an opportunity to direct this film. Our entire team worked hard for two years for the movie "Narakasura". The first copy was ready last month. We were tensed that how will the audience receive our film. Looking for the release, some have supported us and some have discouraged. We got good business offers. We are releasing our film on November 3rd in theaters through Usha Pictures, which has distributed more than two thousand films and received the Guinness Book of Records. Every single team member supported me in directing this film. Rakshit maintained the same getup for two years. Rakshit's father treated me like his son. "Narakasura" will surprise you. There are many more surprising elements in the movie, not just what you have seen in the poster and teaser. I can confidently say to the Telugu audience that our film will impress you. Whenever we thought about Narakasura, we remember Diwali. I can say that this movie will bring Diwali one week early in theatres.
Hero Rakshit Atluri said – As our director said, the entire team worked hard for this film for two years. Every technician and artist was well supported. I can say that "Narakasura" will be a movie that we all will be proud of. I don't have any film background. I think my background is to get recognition by making good films. London Babulu, Palasa, "Narakasura", upcoming Sasivadane and Operation Raavan. I hope all these movies with new stories and concepts will bring me good name. Even if there is a gap between the release of my film, the audience still remembered me with Palasa. This is a movie based on coffee estate. "Narakasura" will be the biggest commercial hit among films of this scale. The film will be loved by everyone. It has action, comedy, emotion and love. Thanks to Usha Pictures who are releasing the movie "Narakasura". We are planning a tour in AP soon.
Heroine Aparna said – I am happy to be a part of a good movie like "Narakasura". Action, songs, beautiful locations are all the elements required for a commercial film in this movie. Our movie will appeal to all sections of the audience.
Producer Dr. Ajja Srinivas said – I am a doctor by profession. But movies are my passion. My friend Raghu brought this story to me during the lock down time. We liked the story and started the production. The shooting was delayed due to covid. During the shooting time, our director was injured in a road accident. He took 6 months rest. Our director completed this film with conviction despite his health problems. Rakshit's performance will be the highlight of the film. All the artists and technicians supported the movie. Watch Narakasura in theatres on November 3rd.
Usha Pictures distributor Suresh said – We are releasing the movie "Narakasura" in two Telugu states as well as in Karnataka. Thanks to the producers and director for giving us the opportunity to release this movie. We saw the movie and it was very good. The movie is coming on a good date. It is believed that it will reach the audience of all sections.
Actors – Rakshit Atluri, Aparna Janarthan, Sankeerthana Vipin, Shatri, Nassar, Charan Raj, Teja Charan Raj, Sreeman, Gayatri Ravi Shankar etc.
Technicians:
Banners : Sumukha Creations and Ideal Film Makers
Producer : Dr. Ajja Srinivas
Co-Producers: Karamuru Raghu, Dr. Oh Raghavendra
Editing : CH Vamsikrishna
Cinematography : Nani Chamidshetty
Music : AIS Nafal Raja
Action : Robin Subbu
PRO : GSK Media
Written, Directed by: Sebastian Nova Acosta Jr