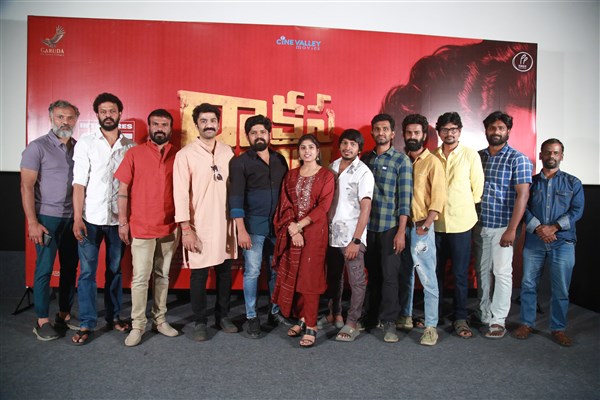 Abhai Naveen, Anvesh Michael, Pawon Ramesh, Dayanand Reddy, Kushalini, Rohini are playing lead roles in the movie "Rakshasa Kavyam". The film is produced by Damu Reddy and Singanamala Kalyan under the banners of Garuda Productions, Pingo Pictures and Cine Valley Movies. Naveen Reddy and Vasundara Devi acted as co-producers. Umesh Nigg is the executive producer. The film is directed by Sriman Keerthy. Being a raw and rustic movie, "Rakshasa Kavyam" created a good buzz among the audience. "Rakshasa Kavyam" movie is going to hit the theatres on 13th of this month. In the press meet organized on this occasion,
Hero Abhai Naveen said – I have done a character in this film which I haven't done before. Thanks to producer Damu Anna and director Sriman for believing that I can do this character. Till now, as an actor, I have been remembered by the audience with movies like Pelli Choopulu, George Reddy, Pitta Kathalu. I wanted to do such different characters in a new genre. A good character was found in this movie at such a time. Playing characters with different shades gives me the reputation that as an actor I can play all kinds of roles. You have seen how new the content of the movie "Rakshasa Kavyam" is through the teaser, trailer and songs. Recently we premiered this movie and they all appreciated and liked the movie very much. "Rakshasa Kavyam" which is coming to 13 theatres this month, you will surely like the movie. Share what you like about our movie with others. We will feel happy if you make our movie a good success.
Director Sriman Keerthi said – Budget wise this is a small film but it is a big film in terms of content. This is a script written with the imagination of what it would be like if they were born in the Kali Yuga, inspired by the characters of Jaya vijay in Puranas. There is no controversy in this concept. Like gods, demons have stories. We have both God and Demon in us. Each one comes out at different times. Our movie has a message to study and not drink alcohol. But it is an undercurrent. All the days of making this film, our entire team is working on this project. We have put up a post for those who want to see "Rakshasa Kavyam". We gave five premiere shows to the audience who responded to that post. None of our friends and family members are there. We wanted to know how outsiders would react to the film. The movie got good feedback from all those who watched it. We hope that the same response will come in the theaters on the 13th tomorrow.
Producer Damureddy said – With the movie "Rakshasa Kavyam" we made a different experimental movie. The movie will have good emotion and family drama. This is a story that takes place in a slum. Slum life is the same not only in Telangana but wherever you go in AP, Bihar, Orissa. Our film is an answer to the criticism that Telangana movies show alcohol habit too much. Although violence and alcohol are seen in the trailer, we have given a good message without them in the film. In this story we are talking about the importance of education. How do motherless children suffer in slums? Also we are showing what kind of difficulties a family faces due to alcohol. Every character in the movie is like a character we know and have seen. We are waiting for the response from the audience for our film. Thank you to Madhura Sridhar Reddy who is supporting our film, Singanamala Kalyan who is a partner in production, and Executive Producer Umesh Sieng. All the unit of "Rakshasa Kavyam" worked thinking that this is our film. Traveled for two years. Thanks to all the team members for their good support. This is a crime drama movie. It is not similar to any previous movie. I want you to watch the movie "Rakshasa Kavyam" in the theater Said.
Actor Yadamma Raju said – I played an important character in the movie Rakshasa Kavyam. Thanks to Damu Garu and Shriman Anna for giving me a chance in this movie. I acted as a friend between two brothers. It will be interesting to see what kind of differences this dosth has caused between the brothers Said.
Heroine Kushalini said – Thanks to Damu garu and Sriman for giving me the opportunity to act in Rakshasa Kavyam movie. In this movie, I played the character of a girl living in a slum. She has more interest in education. It encourages those there to study as well. I hope this film will bring me fame as an actress.
Hero Anvesh Michael said – This is a film based on a family in a Hyderabad slum. There will be a family drama between mom and dad and two brothers. In this family they have their own wishes and preferences. What efforts were made to reach their destinations. What happened in that sequence will be interesting. Abhai Naveen and I had previously done a short film called Nirudyoga Natulu together. It was produced by Damu. Since then we have a friendship. Brothers la Abhai Naveen, I acted as a competitor. Our performance will be enjoyed on screen. Rakshasakavyam will be a movie loved by all the Telugu audience.