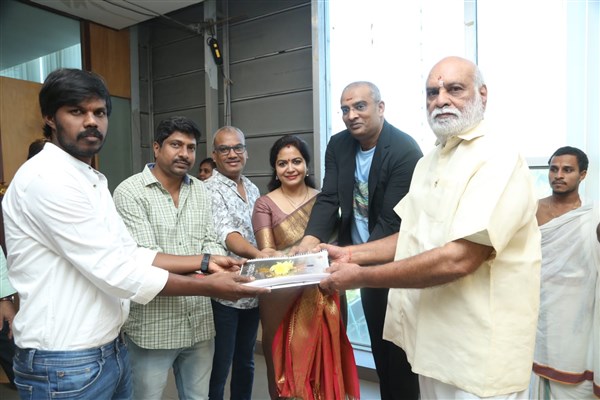 Legendary filmmaker K Raghavendra Rao is producing a film under RK Telefilm Show banner under the direction of Sekhar Gangamouni. The film is titled Sarkaru Noukari.
Noted Telugu singer, Sunitha's son is debuting as an actor with this period drama which will have theater artist Bhavana Vazhapandal in the female lead role.
The film was launched with a grand pooja ceremony in Hyderabad today. At the launch ceremony, Sunitha's husband Ram Veerapaneni directed the first shot while ZEE Studios Nimmakayala Prasad switched on the camera and Raghavendra Rao sounded the first clap.
It is confirmed that the regular shooting for the film will commence on the 6th of February and more promotional material will follow shortly after. The film will have Akash, Bhavana Vazhapandal, Tanikella Bharani, and others in the lead roles.
Cast: Akash, Bhavana Vazhapandal, Tanikella Bharani, Surya, Sai Srinivas Vadlamani, Manichandan, Raseshwari Mallapudi, Ramya Pnduri Trinadh, and others.
Technicians:
Music: Sandilya
Art Director: Ravi
Co director: Ramesh Naidu Dhale
Costume Designer: Riteesha Reddy
PRO: GSK Media
Publicity designer: Babu Dundrapelli
Production house: RK Teleshow Pvt. Ltd.
Cinematography, Written & Directed by: Ganganamoni Sekhar