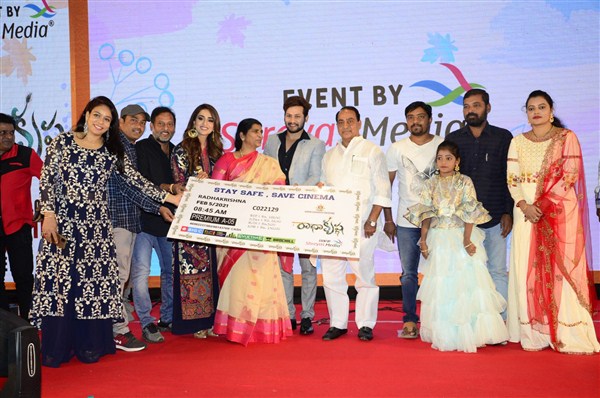 Popular Director, 'Dhamarukam' fame Sreenivass Redde is providing Screenplay and Direction Supervision to 'Radhakrishna' movie starring Anurag, Musskan Sethi (Paisa Vasool Fame) along with Nandamuri Lakshmi Parvathy in a crucial role. T.D. Prasad Varma is Directing this film. Puppala Sagarika Krishnakumar is Producing it under Harini Aradhya Creations. Music is released through Aditya Music. Recently released songs and trailer received very good response. The film is getting released on February 5th.
Telangana Minister Allola Indrakaran Reddy says, " Newly formed Nirmal district is gifted with beautiful nature. It composes naturally formed Thick Forest, Kuntala Waterfalls, Kawal Tiger Reserve. It is appreciable that the team of 'RadhaKrishna' has shot their film in such scenic locations. Sagarika Krishnakumar Garu chose to make a film about world famous Nirmal Crafts and industry which is on the verge of extinction. My Heartful wishes to her for her effort to bring this valuable craft into light. Everyone should watch and encourage this film.   film to become a very big success."
AP Telugu Academy Chairperson Lakshmi Parvathy said, " Arts stand as a testament for out culture and heritage. India is birthplace for many ancient arts. We will lose our existence if we don't protect our ancient arts. We all know how famous Nirmal Crafts are.Team has made a very good film with the theme of Nirmal Crafts which are on the verge of extinction. I wish all of you will support such a good film. I know Sreenivass Redde Garu for many years. He is the main reason behind my acting debut in this film.   film will get all of your blessings. "
Director Sreenivass Redde said, " We feel very lucky with the presence of Minister Indrakaran Reddy Garu here today. Lakshmi Parvathy Garu playing an important role is a great thing for this film. Her role will surely get accolades. This is a very good film made with a very good concept about Nirmal Crafts which are going extinct. That's why I immediately agreed to do Directional Supervision for this film. I wish this film to bring money to First Time Producer Krishnakumar Garu and fame to Director Prasad Varma.   a big success."
Film Producer Puppala Sagarika Krishnakumar said, " We made this film with a noble intention to breathe fresh air to our Nirmal Handicrafts and craftsman in our Nirmal District.  The Film came out very well. It not only showcases about Nirmal Crafts but also will be remembered for its heart touching love story. I wish everyone to watch our 'RadhaKrishna' movie which is made in our 'Harini Aaradhya Creations' banner."
Film Director T.D. Prasad Varma said, " I am very happy for debuting as a director with this film. I am indebted to Krishnakumar Garu for giving me this opportunity. M.M. Sreelekha Garu composed very good music. My mentor Sreenivass Redde Garu is there for me at my every step. He helped a lot for this project. Special thanks to him. Along with Handicrafts this film is made with a beautiful lovestory. I wish this film will impress everyone."
Hero Anurag said, " Thanks to Sreenivass Redde Garu and Sagarika Krishnakumar Garu for giving me this opportunity to act in such a good film.This is a soft love story. Everyone will enjoy it. Sreelekha madam has given superb music. Great to act with Ali, Krishna Bhagawan and Sampoornesh garlu. This is a very good family entertainer. I wish you all to watch this film."
Music Director M.M. Sreelekha said, " 'RadhaKrishna' film is a musical feast. All songs came out very well. Big lyricists like Suddala Ashok Teja Garu, Chaitanya Prasad, Sree Mani, Varikuppala Yadagiri penned lyrics for the songs. Big singers Rahul Sipligunj, Mangli, Anurag Kulkarni crooned for this film. Special Thanks to Sagarika Krishnakumar Garu for this opportunity. Everyone, watch the film on bigscreen on February 5. You all will enjoy for sure."
Principal Cast involves,
Anurag, Musskan Sethi ( Paisa Vasool Fame ), Nandamuri Lakshmi Parvathy, Ali, Krishna Bhagawan, Annapurnamma and Others while Sampoornesh Babu is playing a special role in the film.
Cinematography: Surender Reddy
Music: M.M. Sreelekha
Editing: D. Venkataprabhu
Art: V.N. Saimani
Nirmaana Saradhyam: Krishna Kumar
Producer: Puppala Sagarika Krishnakumar
Presenter, Screenplay, Direction Supervision: Sreenivass Redde
Direction: T.D. Prasad Varma