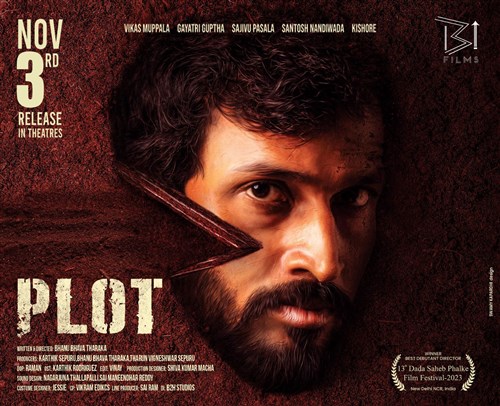 Film: Plot
Producers: Karthik Sepuru, Bhanu Bhava Tharaka, Tharun Vigneshwar Sepuru
Cast: Vikas Muppala, Gayathri Gupta, Sajiv Pasala, and others
DOP: Raman
Editing: Vinay
Music director: Karthik Rodriguez
Writer & Director: Bhanu Bhava
www.moviemanthra.com; Rating: 3/5
'Plot,' produced by Karthik Sepuru, Bhanu Bhava Tharaka, and Tharun Vighneswar Sepuru, hit theaters this Friday, offering a captivating narrative that delves into the depths of human greed.
Story:
Rahul (Vikas Muppala), a serial entrepreneur plagued by a string of failures, is in a dire situation. His girlfriend, Deepu (Gayathri Gupta), is traumatized, and the couple faces a life-threatening danger, pushing them to the brink of fleeing the country. In a desperate turn of events, Rahul teams up with an old friend named Rahul to explore the realm of real estate, driven by an insatiable desire for material success. However, his disregard for ethical boundaries leads to an unexpected challenge in the form of a mysterious figure from the past. Are there secrets waiting to resurface?
Performances:
Vikas Muppala delivers an exceptional performance in a complex role that defies traditional hero stereotypes. He conveys vulnerability and anxiety simultaneously with a rare smile that doesn't overplay his character's apprehension. Gayathri Gupta convincingly portrays Deepu's yearning for freedom from fear, skillfully capturing her restlessness. Sajiv Pasala, who portrays the other Rahul, offers a subtle and nuanced performance. The cast maintains a well-suited dialogue delivery and tonality that aligns with the film's subdued and psychological atmosphere.
Technical Aspects:
Writer-director Bhanu Bhava Tharaka skillfully leverages cinematographer Raman's expertise to immerse the audience in the characters' psyche. Raman's camera angles, including still camera movements and top-angle shots, effectively convey the film's mood. 'Plot' is an editing-based thriller, expertly edited by Vinay, who stays true to the director's vision. The shifting timelines are seamlessly navigated, ensuring that the audience remains engaged without confusion. Karthik Rodriguez's score strikes the right balance, capturing the brooding and unsettling nature of the plot without resorting to clichéd musical notes.
Plus Points:
Performances
Music
Dialogues
Direction
Production Values
Minus Points:
Few boring scenes
Verdict:
The film incorporates elements of surrealism, challenging conventional notions of life and death in the context of real estate. The poetic justice that unfolds towards the climax resonates strongly with the overarching theme. The narrative takes the audience on a journey into Rahul's evolving psyche, making it seem like a coming-of-age drama disguised as a neo-noir crime thriller. 'Plot' is a film filled with metaphors and rare themes, keeping the audience engaged despite its intricate storytelling. Some elements, like the ego clashes between the two Rahuls, may become fully comprehensible only in the climax. If you have a penchant for psychological thrillers with distinctive and thought-provoking themes, 'Plot' is a must-watch that will captivate your senses.
Punchline: 'Plot' is an engaging psychological thriller