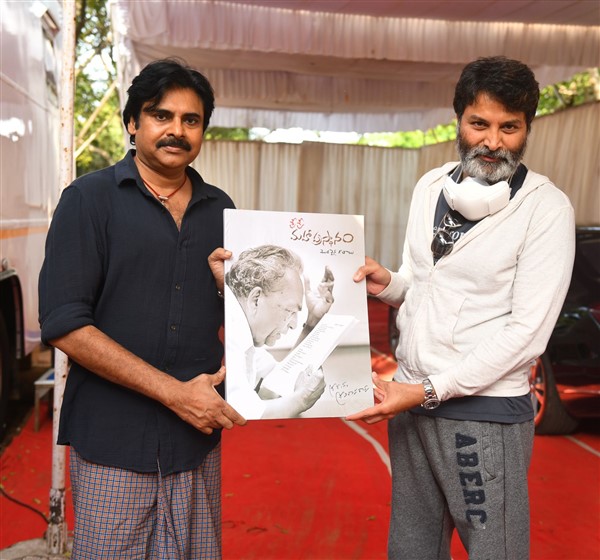 What do Sri Pawan Kalyan and Sri Trivikram talk about when they meet? What do they reminisce about? What are the topics that unfurl during their talks? Their talk does not end even as seconds, minutes and hours roll down the clock. The conversation between Janasena President and Sri Trivikram flow like the water in River Godavari. Do they talk about films or politics?
Those who know Sri Pawan Kalyan and Sri Trivikram are aware that it is only literary discussion in their conversation. When anybody broaches the topic of their discussion, they say, "Yes we create movies in the middle of literary discussion."
From Sri Sri's lirerary works to Seshandra Sarma's modern Mahabharat, from the grammar of Chinnayya Suri to Telugu Satakas, Jashua's poetry to Chalam's works, Kodavatiganti's stories to Madhubabu's detective novels, their discussion flows live the eternal Ganga.
Literary friends Sri Pawan Kalyan and Sri Trivikram met on the sets of 'Bhima Nayak" and discussed about Maha Kavi Sri Sri's literary prowess and his knack of creating awareness among the readers through his literary genius and thereby enkindling the blood of the youth. Sri Pawan Kalyan gifted the memoir of Sri Sri's Mahaprasthanam written in the poet's own hand-writing, to Sri Trivikram. They discussed about the book's publication and the valuable sketches in the book. Sri Trivikram asked Sri Pawan Kalyan, "Please speak about the literary prowess of Sri Sri. The beauty of your narration is in itself a boon to listen."
Continuing the conversation, Sri Trivikram said, "The poet's travel is like the transition of a race. The step that the poet takes, the book that he writes is spoken about for a century. It remains the topic of discussion for centuries. The poet's memories are the nation's song. Sri Sri is Telugu people's pride. He proudly said that the century belongs to him. It's a moment of pride to receive the book on the occasion of Telangana Vimochana Dinothsavam. Wherever the poet's soul is, it stops at the word independence," he said. Replying to the comments, Sri Pawan Kalyan said, "This is the beauty derived at when a poet speaks about another poet."
Reacting to it, Sri Trivikram said, "Sri Sri is a pivotal peak. We all are just pebbles near the mountain." Thus ensued the literary treat between Pawankalyan and Sri Trivikram.