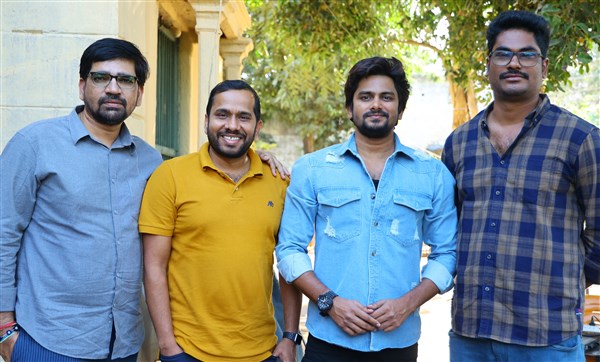 Full Moon Media Productions, a new film production banner, has been established with the purpose of bringing out entertaining films made with rich taste and strong conviction. The banner is ready to make pathbreaking movies in Telugu cinema. Its first movie was announced today.
Bigg Boss title winner VJ Sunny is its hero. The actor was recently seen in the web series 'ATM'. The film has gone on the floors.
Sivannarayana, Sailaja Priya, Saptagiri and Rekha have got important roles in the movie.
Talented writer Sanjay is going to make his directorial debut. He has come up with an exciting story. Filmmaker V Jayashankarr, the acclaimed talent, is going to be the directorial supervisor.
Speaking about the project, Full Moon Media Productions said, "We are happy to launch the movie with VJ Sunny as the hero. From today, the regular schedule will go on at a stretch. The plan is to complete the shoot in a single schedule. Talented actors and highly competent technicians have been roped in. Hunt4Mint, a talent-scouting platform known for helping actors and directors from across the world network, has helped us a great deal. Through our collaboration with the platform, we are going to introduce many new talents to the film industry. And our endeavor will continue in the future. We have started the production house with a vision. More details about our first movie will be revealed soon."
PROs: Lakshmi Ganapathy, Kumar Swamy
Cinematographer: Srinivas Reddy
Editor: Karthik Srinivas
Music Director: Madeen
Art Director: Rajeev Nayar
Chief Co-Director: Chinna
Co-Director: Santosh Krishna
Associate Director: Yashwant
Assistant Director: Yash
Production: Full Moon Media Productions
Directorial Supervisor: V Jayashankarr
Producer: Ravi Polishetty
Writer, director: Sanjay
—
Kumar Swamy PRO [Boxoffice]
kumarswamyswamypro@gmail.com
9963444643