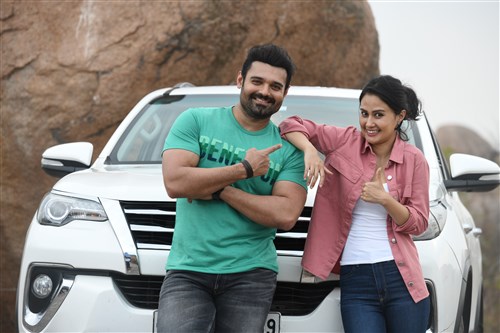 Senior Hindi hero Mithun Chakraborty's son Mimoh Chakraborty debuts in Tollywood with the Movie 'Nenekkadunna' directed by Madhav Kodad also a debutant. The movie is made in Telugu and Hindi languages. Airtel Ad fame Sasha Chettri plays the female lead role in this film which is Produced by Maruti Shyam Prasad Reddy under KBR presentation. The film will hit the theatres on November 17.
Director Madhav Kodad said, "This is a suspense thriller which has both journalism and politics as its base. Both Sasha Chettri and Mimoh Chakraborty will be seen as journalists. Right from the beginning till end, the movie will be thrilling with twists beyond the imagination of the audience. This is a Female oriented movie that connects well with the women. Apart from this, we have shown in the film that how politics affect journalism,"
The film's producer Maruti Shyam Prasad Reddy said, "The first copy of the film is ready. We recently finished sensor. We shot in Mumbai, Hyderabad and Bangalore. Story, music, visuals, direction are the core strength of our film. A special attraction is the pub song with Russian belly dancers choreographed by renowned choreographer Prem Rakshit. The film is releasing worldwide on November 17 in both Telugu and Hindi languages.
Cast and Crew:
Murali Sharma, Mahesh Manjrekar, Pradeep Rawat, Sayaji Shinde, Abhimanyu Singh, Rahul Dev, Brahmanandam, Thanikella Bharani, Posani Krishna Murali, C.V.L. Narasimha Rao, Ravi Kale, Bhanu Chander, Ramana Chalkapalli, Milind Gunaji, Mihira, Uttara.
Choreography : Prem Rakshit, Lyrics : Suddala Ashok Teja, Stunts : Shankar & Madhav Kodada, Editing : Filmy Gangsters, Director of Photography : Jayapal Nimmala, Music composer : Shekhar Chandra, Background Score : Rajesh SS, Presented by : KBR, Producer : Maruti Shyam Prasad Reddy, Story – Screenplay – Dialogues – Direction : Madhav Kodad