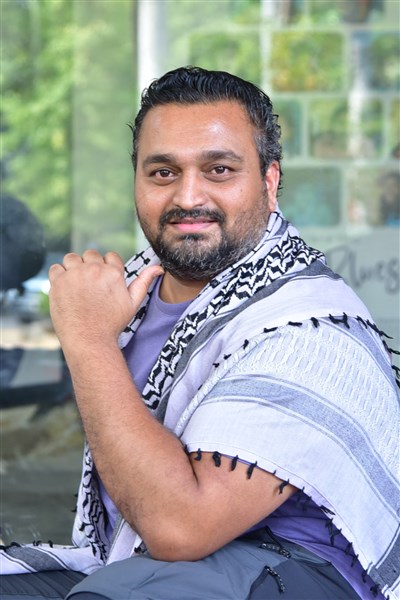 "Narakasura" starring Rakshit Atluri of "Palasa" fame. Aparna Janarthan and Sankeerthana Vipin acted as heroines. The film is produced by Dr. Ajja Srinivas under the banners of Sumukha Creations and Ideal Film Makers. Directed by Sebastian Nova Acosta Jr. "Narakasura" movie is going to release tomorrow in Telugu, Hindi, Tamil, Malayalam and Kannada languages. On this occasion, the director Sebastian interacted with media about the movie "Narakasura".
– My dream is to become a director. I tried for opportunities to take training in film school. Lakshman helped me a lot. Our studies have nothing to do with opportunities in the industry. They sent me out of an office saying that I speak English. I worked as a waiter in a bar and restaurant in Cinemax. Once Raghavendra Rao came there and asked about me. When they told me about me as a film school student, they called their boy Prakash and asked him to work with him. That's how my career started in the film industry. Then in 2012 I went to Prasad Labs and tried to understand the technology there. If you look there, more than a thousand films have been dropped without being released. After seeing them, first you should know the film business and then think of making. So I joined Sai Korrapati Garu Varahi film banner distribution to learn work. So I worked in the distribution department for many films produced there. Then you know how business is.
– If you think that the first film opportunity is difficult, I had a big accident during the making of "Narakasura" and lost my right arm. A road accident happened at night while going to Jabalpur after shooting in Orissa. I finished the film with confidence even though I lost my arm. I feel lucky to have survived that incident.
– I watched a video during the time of writing the first story and developing it for the movie "Narakasura". At the event of Bharat Ane Nenu, KTR said that transgenders are being shown commercially in films. Apart from that, it would be better to make a movie about their problems. I liked it very much. His words reminded me of an incident I had seen in my childhood. By combining them, we put the transgender theme in this story. The film is not all about hijras. But that is an important point in the story. "Narakasura" is a great movie. The transgender community will always be remembered.
– The first name we thought for this movie is not "Narakasura". But we fixed this title at the time of developing the story. Even after this movie was OK, it took seven months to prepare the script properly. Before becoming a demon, Narakasura was a great king and son of Bhudevi. The hero in this movie also has a great personality. When he has to become a monster, he becomes a monster bigger than Narakasura. So the story is relevant to the title.
– When I wrote this story in lockdown, I approached many heroes. But if a hero has no image, it seems that we have the freedom to make our story as we want. Then the producers said that Rakshit of Palasa film will be set. I saw him and we gave him training on this character for some time. Rakshit performed more maturely than Palasa.
– After the super hit Palasa, Rakshit can do two films a year. He also has his own production. But for our film, he did not do any other film for three years. Rakshit's support is there throughout the film. Our film has senior artistes like Nasser, Charan Raj and Sreeman. They also traveled to other states during the lock down time and supported our shooting. Hijras helped me once when I was sick in the train. I have heard the bad name that they collect money but I have seen their goodness in my life.
– In "Narakasura" I made it without losing any commercial elements while keeping the good message. You will see those commercial elements in the trailer. I am doing a film called Next Tribe. This is a movie based on stone age with tribal lifestyle. The star cast includes Madhavan, Arun Vijay, Vivek Oberoi and Tovino Thomas. I am going to make the film in three languages.