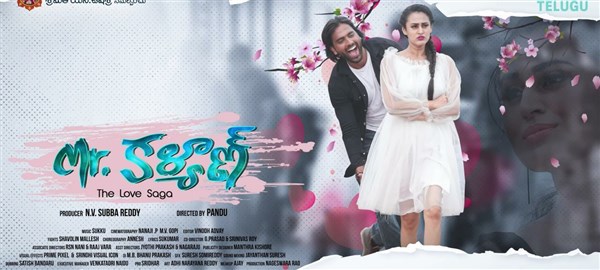 Movie: Mr. Kalyan
Release Date: March 10, 2023.
Actors: Krishna Manyam, Archana, Saptagiri, Dhanraj, Taghubotu Ramesh, Raj Vara etc.
Director: Pandu
Producer: N. V. Subbareddy
Music: Sukku
Cinematography: Nanaji. MV Gopi
Editor: Vinod Advai
Dance: Anish
Fights: Mallesh
Moviemanthra.com;Rating: 3/5
Release; Date ; 10/3/2023
Story:
Chapel runs a call boy office in Vizag city, but his business suffers a loss when Kalyan becomes a call boy too. Why did Kalyan become a call boy? What did he achieve in the end? To know the answers, we must watch the movie Mr. Kalyan in the theatres now.
Performances:
The character of Chapel and his gang of boys act as antagonists as well as comics, which seems frivolous. The fights by Shaovlan Mallesh look decent, given the towering personality of Maanyam Krishna. The character of CB and his interactions with his clients bring out various problems faced by women, ranging from abuse to neglect.
The movie "Mr. Kalyan", directed by Pandu, takes an approach of "end justifies the means". The film begins with Kalyan being a wreck, lost in alcohol and smoke, and the story narrates how he landed in that position. In the first half, Kalyan is portrayed as a macho guy with a double life, one as a deeply responsible lover and the other as a call boy, CB. The lead pair, Maanyam Krishna and Archana, do a decent job, and the supporting actors include Satya Sameera, Lavanya Reddy, Ramana Bhargav, Surya, Navya, Nakshtra, Krishna Murty, Madhavi Reddy, Sankar Mahanthi and Srinu.
Technical Aspects:
The film had cinematography by Nanaji P and M.V. Gopi, music by Sukku, lyrics by Sukumar, editing by Vinod Advay, and choreography by Anesh. The direction is good. The director made sure to bring the right entertainment with a very good story and screenplay. The team is happy in many ways. The makers maintained good production values.
Plus Points:
Direction
Camera Work
Dialogues
Performances
Music
Minus Points:
Few lags
Review:
Sarika is a broken girl when she learns about Kalyan's business. The second half highlights the reasons behind Kalyan's actions. The film has a very good screenplay, which makes it an engaging affair. Overall, the romantic action drama works very well in the movie, and it has completely impressed everyone. The film is very much consistent in driving the audiences entertained, and it has got a lot of engaging content too.
Punch Line: Mr. Kalyan is Impressive!