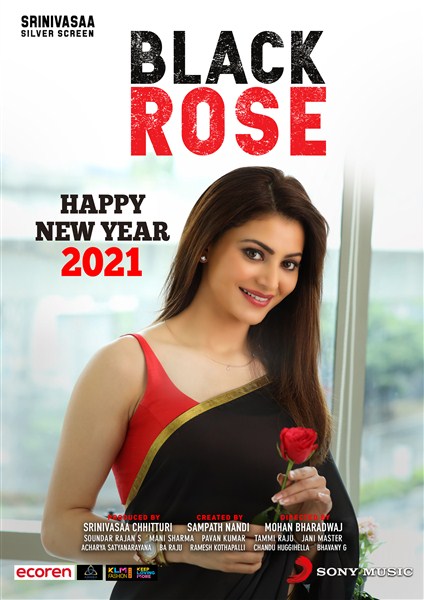 SuperHit films Producer Srinivasaa Chhitturi is Producing 'Black Rose' as Production No:4 in Srinivasaa Silver Screen banner Presented by Pavan Kumar. This film is being made as a bilingual in Telugu and Hindi languages. 'Black Rose' is created by Mass Director Sampath Nandi while Mohan Bharadwaj is Directing it.
Two times Miss India Pageant winner, Urvashi Rautela is playing as Heroine in 'Black Rose' which is an Emotional Thriller. Recently released Promotional Video Song, 'Naa Thappu Emunnaadabbaa..' garnered tremendous response. Urvashi Rautela rocked in this promotional song with her glamour and terrific dance moments as well. Mani Sharma has composed this song while Jaani Master choreographed it. The team has released New Poster featuring Urvashi Rautela on New Year's Eve. Urvashi Rautela looks stunning in the poster holding a rose.
'Black Rose' is a female-oriented emotional thriller which is based on a character named Shylock from Shakespeare's 'Merchant Of Venice.' It also deals with the point "Transactions Which Have No Conscience or Morals… Are Indicators Of Death" from Kautilya's 'Arthashastra.' 'Black Rose' was shot simultaneously in Telugu and Hindi languages in a single schedule and is ready to release.
This Urvashi Rautela starrer is
Written By: Sampath Nandi, Mohan Bharadwaj
Art Director: Acharya Satyanarayana
Editor: Thammiraju
PRO: B.A. Raju
Cinematography: S. Soundar Rajan
Music: Mani Sharma
Presented By: Pavan Kumar
Producer: Srinivasaa Chhitturi
Created By: Sampath Nandi
Direction: Mohan Bharadwaj