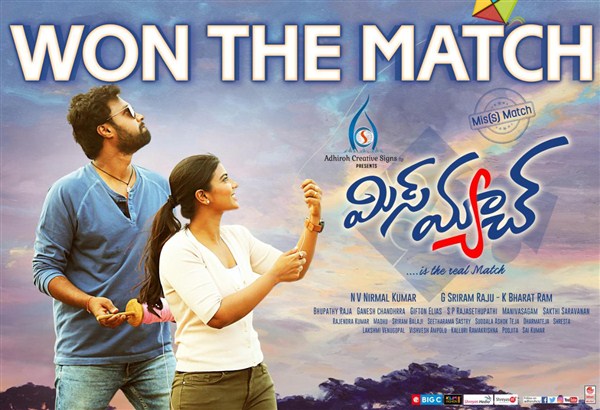 Film: Mismatch
Cast: Uday Shankar, Aishwarya Rajesh, Pradeep Rawath, Sanjay Swaroop, Master Adhiroh, Naga Mahesh, Ravulapati Venkata Ramarao, Malakpet Shailaja, Badhram, Roopa Laxmi, Sandhya Janak, Sharanya, Padma Jayanthi, Laxman, Munna
Banner: Adhiroh Creative Signs llp Presents
Director: N V Nirmal Kumar
Producers: G Srirama Raju, Bharath Ram
DOP: Ganesh Chandrra
Story, Screen Play: Bhupathi Raja
Music: Gifton Elias
Dialogues: Rajendra Kumar, Madhu
Lyricists: Sirivennela Seetharam Shastri, Suddhaala Ashok Teja, Dharma Teja
Editor: SP Raja Sethupathi
 Release Date : 6/12/2019
www.Moviemanthra.com;Rating: 3.25/5
Story:
Siddhu (Uday Shankar) is a charming and cool guy. He falls for a boxer (Aishwarya Rajesh). They meet and become friends. When they want to get married and fix their match, it turns into a mismatch because of the difference of opinions. Why did it happen? What happens after that? How did the match become successful? Forms the story of the movie.
Performances:
The performances of all the actors is brilliant in the movie. The male lead Uday Shankar gave a matured performance in the film. Apart from his debut film Aatagadhara Siva, he did well in this movie. His scenes with the heroine are nice. Aishwarya Rajesh, as we all know is a fine actress and she is perfect in the heroine role. Aishwarya Rajesh played her part pretty well in the movie. The way she portrayed emotions is impressive. Both the lead pairs expressed good chemistry. The rest of the star cast made their presence felt..
Technical Aspects:
Coming to the director of the movie, he has put an amazing job by coordinating with each and every one. Nirmal Kumar has come up with a good story. The way he narrated it is impressive and the film has been very much emotional. The screenplay of the film is neat and it evokes interest in watching furthermore. Also, Gifton's music is very impressive and so was the background score which is elevating the film's story. The cinematographer Ganesh Chandra delivered a classy visual and the output is satisfying. The technical team did their best. The production values are really good and they have done a great job too.
Plus:Points
Performances
Story
Visuals Music
Minus:Points
Slow Narration
Verdict:
The movie has got an interesting plotline and as per the treatment, it is engaging too. The director worked really very hard to come up with an impressive plot that entertains all classes of audiences. The love story in the movie is good and the way it has been dealt is impressive. The dialogues are perfect for the situations. The director has a good vision that he brought on to the screen properly. On the whole, Mismatch is an engaging entertainer.
Punch Line: Mismatch is an engaging tale of Love