Film: #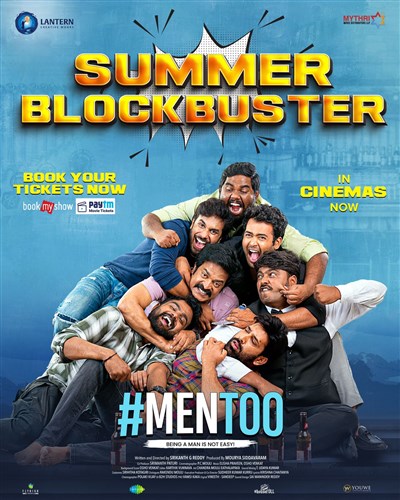 Film;Men Too
Release Date: May 26, 2023
Cast: Naresh Agastya, Brahmaji, Harsha Chemudu, Sudharshan, Riya Suman, Priyanka Sharma, Mourya Siddavaram, Kaushik Ghantasala, Ashritha, Karthik Adusumilli
Director: Srikanth G Reddy
Producers: Mourya Siddavaram
Music Director: Elisha Praveen G & Osho Venkat
Cinematography: PC Mouli
Editor: Karthik Vunnava
Moviemanthra.com;Rating: 3/5
Men Too, starring Naresh Agastya, Kaushik Ghantasala, and Mourya Siddavaram, created a lot of anticipation with its promotional content. The film has finally made its way to the screens today. Read on to find out our take on the movie.
Story:
Aditya (Naresh Agastya), Sanju (Kaushik Ghantasala), and Munna (Mourya Siddavaram) are close friends who frequently hang out at the 'Stags Only' pub. One day, they encounter Rahul (Harsha Chemudu), an IT employee who lost his job due to allegations of sexual harassment. Rahul's subsequent actions leave everyone shocked. Did Rahul actually commit the alleged sexual harassment? What unfolds next forms the crux of the movie.
Performances:
Naresh Agastya delivers yet another praiseworthy performance, effortlessly portraying various characters. Mourya's portrayal of Munna, a mechanic with a skeptical view of women, stands out. He injects humor into the narrative through his amusing antics and clever punchlines. Despite having limited screen time, Harsha Chemudu commands a significant role in the film. He leaves a lasting impact. Kaushik Ghantasala impresses with his well-justified role. Riya Suman, despite having limited scope, delivers a commendable performance. Additionally, the film features characters played by Priyanka Sharma, Ashritha, and Jabardasth Rohini, adding depth to the overall ensemble. Brahmaji and Sudarshan's characters came out well.
Technical Aspects:
While the director's execution of the main point may not be flawless, it engages the audience. The screenplay, though with room for improvement, effectively conveys the film's intended message. In terms of technicalities, the cinematography is visually appealing, and the music, although not exceptional, adequately complements the film. Some trimming in the editing department could have further enhanced the pacing. The production values meet the expectations, and the movie's concise runtime benefits the audience's viewing experience.
Plus Points:
Performances
Comedy
Story
Direction
Minus Points:
Few scenes could have been better
Review:
The director, Srikanth G Reddy, fearlessly tackles a critical real-life issue that some men face. He aims to deliver a humorous narrative, shedding light on the fact that men also encounter problems, and some pseudo-feminists exploit the victim card, wrongly portraying men as offenders.
Furthermore, the temporary break between Aditya (Naresh Agastya) and Tara (Riya Suman) may seem trivial, but it adds a touch of relatability to their relationship. While the story is straightforward, it effectively conveys its central message. The screenplay, particularly in the first half, successfully captures the essence of the narrative. Men Too delivers an enjoyable film-going experience with a fair share of amusing scenes that will surely bring a smile to your face.
Punch Line: A fun filled drama with perfect entertainment