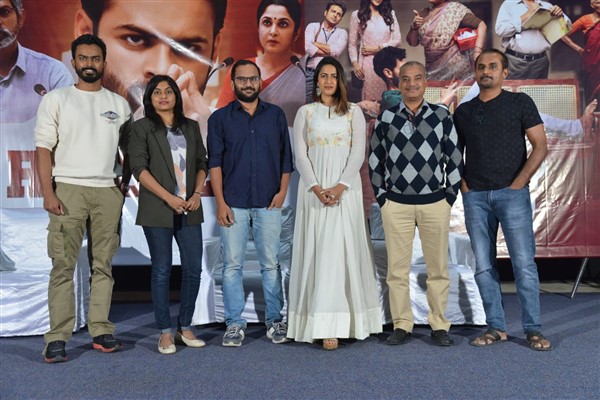 Hyderabad, 22nd December 2021: ZEE5 has been one OTT platform dishing out more than just entertainment through a range of movies, web series, direct-to-digital releases in Hindi, Telugu, Tamil, Kannada, Malayalam, Marathi, Bengali, and Gujarati, among other Indian languages. ZEE5 has been grabbing eyeballs by dishing out content that suits the tastes of all sections of audiences. 'Republic', which has been done by Supreme Hero Sai Tej and talented director Deva Katta, is one of its recent offerings. Also, the ZEE5 original 'Oka Chinna Family Story', starring Sangeeth Shoban, Simran, Senior Naresh, Tulasi, 'Getup' Srinu, Pramila Rani, and others, has been a major offering. Produced by Pink Elephants Pictures' Niharika Konidela, the Original is directed by Mahesh Uppala. Since 'Republic' and 'OCFS' have been a massive hit, a blockbuster success meet was held in Hyderabad at Prasad Labs.
Speaking on the occasion, Padma Kasturirangan, Vice-President of Telugu original content (ZEE5), said, "I am very happy that you have all joined the celebrations of this success. We were in dilemma as to which one between 'Republic' and 'OCFS' should be released first. They both turned out to be blockbusters on our platform. The response has been immense. We thank the viewers on this occasion. I also thank the makers of the two offerings for bringing out the best."
Niharika Konidela, the producer of 'Oka Chinna Family Story', said, "Deva Katta garu's vision is great. I really liked 'Republic'; it is an honest movie with a superb climax. As for my production, I have been seeking to produce strong content-oriented stuff. I might go on to produce big commercial movies in the future. I will produce only the movies that I would like to watch as an audience member. ZEE5 is very particular about the content they want to bring out. I have worked with them from close quarters. I am happy that the OTT platform has streamed not only 'OCFS' but also 'Muddapappu Avakai' and 'Nanna Kuchi', my previous outings. 'OCFS' is a single-thread story. And the credit goes to director Mahesh garu and writer Manasa Sharma garu. When I listened to the script, I could connect with the emotions. The director was very clear about what he wanted."
'Republic' director Deva Katta said, "I too want to try out family stories. I have got 2-3 of them. I feel I couldn't make 'Vennela' perfectly. When I narrated 'Prasthanam' to producers, they asked me to mix a 'Vennela'-kinda story with action elements instead. After 'Prasthanam', they started expecting only such a movie from me. Each director has his own set of strengths. Actors want to experience them. Coming to 'Republic', we never expected this huge a response on OTT. We were confident about the content. In the past, films like 'Prathighatana' and 'Repati Pourulu' clicked with the audience. In the last 15-20 years, the particular section of the audience hasn't been around. It's the fault of filmmakers. The audiences will always warm up to films that speak of social responsibility. I thank ZEE5 for promoting the movie in a big way. Audiences are always in our hearts and they connect with our heartfelt content. Every scene and dialogue in 'Republic' has triggered conversations. This film was born from deeply-felt disturbances in society. I haven't yet figured out what to do next."
Prasad Nimmakayala, Vice-President-Telugu Movies at ZEE Studios, said, "I thank everyone here. If 'OCFS' is about a small family, 'Republic' is about a complex society. This is what the viewers are saying about the movie. We are extremely glad to have brought out these projects."
Director Mahesh Uppala of 'OCFS' said, "I thank Niharika garu on this occasion. I will always be indebted to ZEE5's Anuradha garu and Prasad garu. ZEE5's hard work behind our success has to be mentioned. I am happy to share the dais with Deva Katta garu. I thank the viewers for supporting me in fulfilling my dream."
Lloyd Xavier, Marketing Director at ZEE5, said, "It has been a nice experience with the team at ZEE5. The team has worked hard to bring out strong content to the patrons."
A cake-cutting session followed the event.