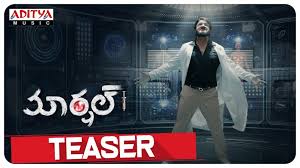 Film. Marshal
Release date. 13.9.2019
www.moviemanthra.com. Com rating 3.25
Jai Raja Singh is the director of the film Marshal. Abhay and Megha Chowdary played the lead roles in the movie and senior actor Srikanth is seen in a crucial role of the movie. Hero Abhay produced the film on his own. Ravi Basuri of KGF fame is the music director of the movie. The film released today and check out the review of the movie.
Story:
Sivaji (Srikanth) is a superstar. Abhi (Abhay) is his fan who wanted to take a selfie with Sivaji but it fails to happen. At one time, Abhay decides to unveil the ugly truth of Sivaji and becomes friends with Megha (Megha Chowdary). After a series of dramatic events, Abhi's life takes a turn. What happens to his life? What did Abhi do then? What happened in the end? Forms the story of the film.
Performances:
The performances of the movie are major highlights. Actor Srikanth performed well in the film and has portrayed a subtle performance in the movie. The performance of the actor elevated some main scenes. He has given complete justice to his character. Also, Abhay did a good job with the movie. His acting is very good. He is very nice in some emotional scenes. Megha Chowdary is nice as per the glamour requirements. She also played her part well and delivered a good performance. The rest of the film's cast made their presence felt.
Technical Aspects:
The film's story has a medical mafia as a backdrop. The story of the movie is good and the director must be appreciable for taking up a unique storyline. There are a lot of interesting elements in the film. The movie has good camera work which is a big highlight and the music is impressive. The re-recording of KGF music director is also nice. The editing is good and the producers worked well to pull out the movie in a limited budget.
Plus Points:
Performances
Camera Work
BGM
Story
Minus Points:
Slow Narration
Verdict:
The film has got a different concept where Srikanth is the main lead. The way he portrayed all the incidents is impressive. The mother sentiment has worked out in the film and it is a big highlight. The scenes between Srikanth and Abhay are also good. The message delivered in the end is too good. The interval twist and the climax are pretty good and entertained the audiences. With a fresh point, the makers planned to come up with an impressive film with a good message. The film is entertaining and has got everything to become a big hit at the box-office. Watch it.
Punch Line: Thrilling Entertainer with a Message