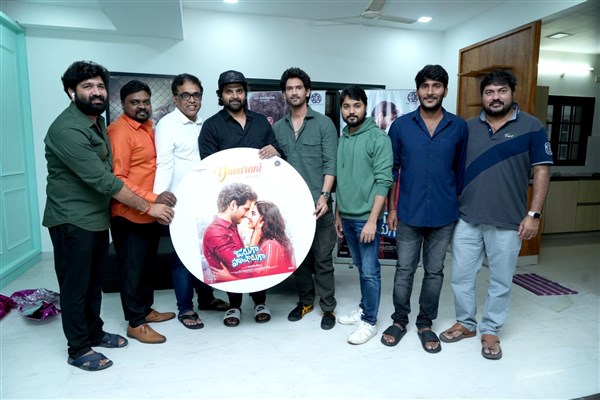 *'Joruga Husharuga' stars Viraj Ashwin and Poojitha Ponnada*
'Joruga Husharuga', a trendy love entertainer led by Viraj Ashwin and Poojitha Ponnada, is written and directed by Anu Prasad. Nireesh Thiruveedhula is producing it on Shikhara & Akshara Arts LLP as a beautiful and youthful rom-com.
Today, a lyrical video from the movie was released in the presence of hero Sri Vishnu. Speaking on the occasion, the 'Samajavaragamana' actor said that 'Joruga Husharuga' comes across as a genuine love entertainer. "This movie starring Viraj Ashwin looks positive to me. This particular song is so good. I wish the team all the success," the versatile actor added.
The song, sung by Armaan Malik and Navya Sameera, has been written by 'Saraswati Putra' Ramajogayya Sastry. "Oka kalala nuvvala nijam ayyave na bangaru bomma. Mundhuga panduge nee kalayika tho poorthayinadey na janma," the lines go. Raghu Master has done the dance choreography. The romantic song has been shot on Viraj and Poojitha.
Viraj Ashwin thanked Sri Vishnu for the honours and said that the lyrics of 'Yuvarani' are catchy. "The film has shaped up so well. I hope it will turn out to be the best film in my career," he added.
Producer Nireesh said that the film has been made to suit the present generation's tastes as a youthful entertainer. "This is a blend of all emotions. The concept is new and the audience will surely be fond of what we are going to offer," the producer added.
Director Anu Prasad, who is making a debut, said that the scenes and story of the movie have been written in keeping with today's trends. "Everything fell into place for our movie. Be it the romance, the emotions, or the entertainment, everything is in the right proportion in our movie. I hope this unique attempt is going to be loved by the audience," he added.
The film's music has been done by Praneeth Muzic. Edited by Marthand K Venkatesh, the film also features Sai Kumar, Rohini, Madhunandhan, Siri Hanumanth, Sonu Thakur, Brahmaji, Chammak Chandra, and Preeti Khanna. Teja Thiruveedhula is its production designer.
The event was attended by producer Bekkem Venugopal as a guest. Cinematographer Mahi Reddy Pandugula and others attended the event as other guests.