Mov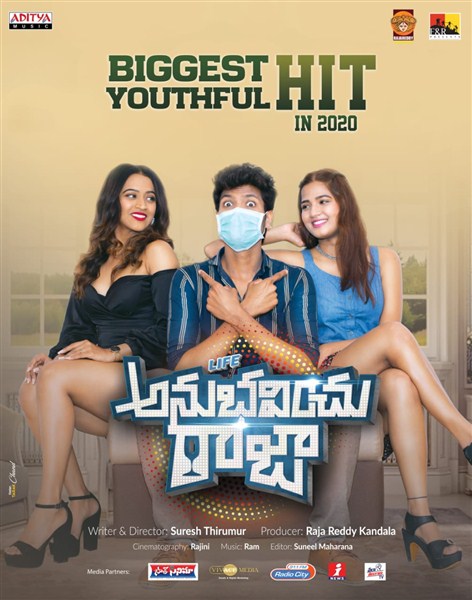 Film: Life Anubhavinchu Raja
Cast: Ravi Teja Jr, Shruti Shetty, Sravani Nikky, Sreni Solomon
Producer: Rajareddy Kandala
Story, Screenplay, Direction: Suresh Tirumur
Music: Ram
DOP: Rajani
www.moviemanthra.com;Rating: 3/5
Story:
Raja (Ravi Teja) wants to become successful in life but his life revolves around failure. He meets Nithya Harathi (Sravani). Sravani's father disapproves of the relationship between Sravani and Raja. He opposes them when they decide to stay together. Raja then leaves for the Himalayas and meets Shriya (Shruti Shetty). Raja comes up with an idea and then becomes a rich man. What happens to his love then? What did he do? What is his idea? What happens in the end? Forms the story of the movie.
Review:
The character of the lead protagonist is interesting and it is designed well. The way the story is told is also interesting. At the same time, the hero gets in touch with the heroine. The situations, scenes and the way the dialogues are written is impressive. The way, the relation between characters is written is completely impressive and they got well in the movie. The chemistry between the lead pair is very much interesting and impressive.
The credit for the director must be given, when it comes to the film. Director Suresh did his best by coming up with an impressive movie. The story of the film is completely new and fresh. At the same time, the success that the film makes also goes to the director for coming up with an interesting story and screenplay. The dialogues are also impressive in the movie.
Technical Aspects of the film are very good. The camera work is neat. The visuals look grand. The music by Ram is impressive too. The background score has come out well. The editing is neat. The way everyone acted in the film is good. The director made sure all the crafts come up with proper coordination. The director must be appreciated for coming up with a film that has got everything in the right place. All the elements of the film worked well in the film.
Plus Points:
Performances
Music
Camera Work
Direction
Minus Points:
Few boring scenes
Punch Line: Raja entertains with Life Anubhavinchu Raja