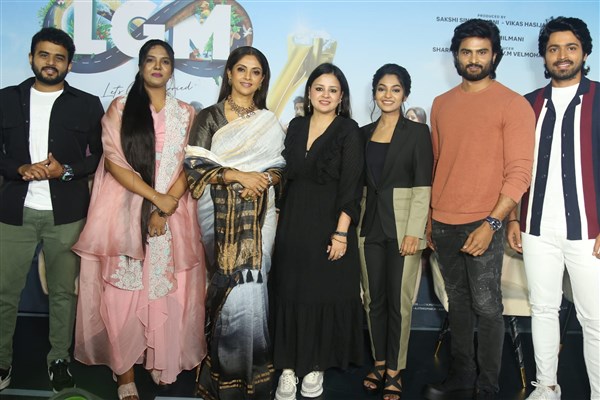 LGM Releasing On August 4th
A girl who is about to marry and start a new life along with her husband says she doesn't want to live along with her mother-in-law. She makes a strange condition,that she wants to go on a trip with her future mother-in-law so that they get to know each other. How the boy struggle between his would be and his mother… all these portrayed as a tale of love and family entertainer, LGM (Lets Get Married). Indian legendary cricketer MS Dhoni forayed into Film Production with this film. LGM stars Harish Kalyan, Ivana, Nadhiya, Yogibabu in key roles. This film is made under Dhoni Entertainment Pvt Ltd Produced by Sakshi Dhoni and Vikas Hasja. The film is releasing on August 4th. JPR Films and Tripura Productions are releasing this film in Telugu states. An event is held in a grand manner at Hyderabad on the occasion of the film's release. Producer Sakshi Dhoni, Hero Harish Kalyan, Heroine Ivana, Nadhiya, Tripura Productions Tripura Pasupuleti attended the event. Nitro Star Sudheer Babu graced the event as a chief guest. On this occasion…
Tripura Productions Tripura Pasupuleti says, " This is our first step in the film industry. All the best to our entire team."
RJ Vijay says, " I am glad to be a part of such a big project. Many different concept oriented films are coming from Tollywood. Audiences are ambracing them. This industry has given life to many. Though I didn't know Telugu, I dubbed for many films in Chennai. In that way Telugu Film Industry helped me during my college days. LGM is releasing on August 4. Everyone enjoy the film."
Nadhiya says, " I came to Hyderabad after a long time. I am happy to be a part of Dhoni Entertainments. I believe you will enjoy this film like all my previous films. I worked with a very good team. Thanks to Dhoni and Sakshi Garu. I never forget your love and affection."
Heroine Ivana says, " 'LGM' is a very special film for us. I am very happy to be a part of Dhoni gari first production. This is a memorable experience in my life. We enjoyed a lot while shooting for this film. The film is releasing on August 4. You all will enjoy this feel good film."
Hero Harish Kalyan says, " I am a big fan of Telugu films and Telugu audience. Because you celebrate films like a festival. I admire Telugu stars. Telugu Cinema has reached a whole new level now-a-days. The way big stars are encouraging new films is a great thing here. I did a small role in 'Jersey' film. Now I am coming to you with 'LGM – Let's Get Married'. This is a very entertaining movie. Thanks to Dhoni Garu, Sakshi Garu, Ivana, Vijay and everyone. LGM is releasing in theatres on August 4th.
Nitra Star Sudheer Babu says, " 'LGM – Let's Get Married' trailer is very entertaining and interesting as well. Dhoni Garu is a legend in Cricket World. I was thrilled when he launched a banner and started a film. I wish him the same amount of success he had in cricket will continue in films too. All the best to Sakshi Garu. Harish Kalyan impressed with his role in 'Jersey'. He is now coming with LGM. Ivana who is familiar with Love Today is the heroine in this film. I wish this film to become a huge success. Hridhayam fame cinematographer Viswajeet's visuals looks great. Ramesh Tamilmani did great as Director as well as Music director. All the best to Nadhiya Garu and Yogibabu garu. Wishes to Tripura Pasupuleti and Dr Pavan who are bringing this film to Telugu audiences.
Sakshi Dhoni says, " Usually my husband Dhoni loves to give surprises. This is one such a surprise from him. For most of us cricket is an entertainment but for him it is his profession. Likewise Cricket, Movies are also meant for entertainment. That's why we choose this field. We watch a lot of films in theatre or OTT. Due to the interest we have in films we decided to venture in production. We are ready to do many more films. Though 'LGM' was made in Tamil, Dhoni has numerous fans in Telugu too. So, we decided to release Telugu version too. I used to watch Telugu films in Hindi dubbed versions in Youtube. I watched all of Allu Arjun's films. I am a big fan of him. I used to talk to director during story discussions. We used to take feedback alot for better output. That's how I involved in creative side. This is a story about an independent girl. It is normal to get ups and downs in every relation. We used to correct them and make them strong overcoming such obstacles. This film will discuss the relationships in our life. When an independent girl decided to get married, how did she feel inside. What decisions she made is the core point for 'LGM'. The film is releasing in theatres on 4th August.