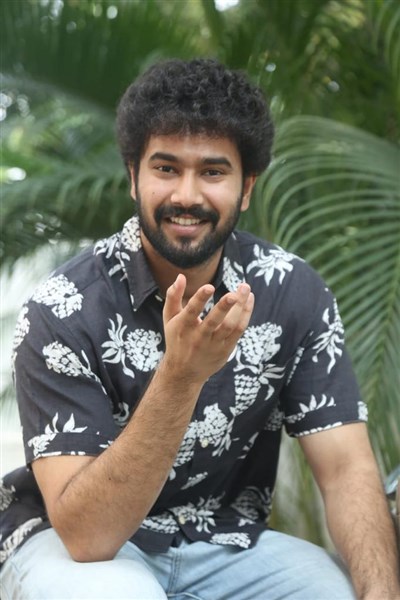 GA 2 Pictures is planning to release 'Kota Bommali PS' in a grand way in theatres on November 24. Teja Marni has wielded the megaphone. Produced by Bunny Vass and Vidya Koppineedi, the film has Rahul Vijay in the role of a cop.
In this interview, the young actor says that he plays a constable named Ravi in this political survival thriller. "I work under Srikanth garu's character. Getting to do a film with producers Bunny Vass garu and Vidya akka feels great. Even though I am young, Vass garu would call me 'Rahul garu' on set. His treatment has been awesome," he says.
Highlights from the interview:
The film's co-producer approached me with this offer when I was looking for something exciting. I couldn't believe I would land an offer from a big banner like Geetha Arts.
'Kota Bommali PS' is an adaptation of 'Nayattu'. Only the storyline has been borrowed. The rest of the film is like a straight one. And this is racy unlike the Malayalam original. This film is a great opportunity for me. I like director Teja Marni's previous work, 'Johar'. Allu Aravind garu, Vass garu are very happy with the output.
Kota Bommali is the name of a village near Srikakulam. How a local police station affects the lives of Ramakrishna (Srikanth), Ravi (myself) and Kumari (Shivani Rajasekhar) will be exciting to watch. The last 30 minutes holds like anything with its emotional beats. The film will take the audience into a mood.
The film doesn't deliver any political message. It is also not state-specific, it is about the state of the country. We are not imposing our views on the public.
The massive success of 'Lingi Lingi Lingidi' was unexpected. The dance steps have been recreated by many users of Internet. The song has made the film itself popular.
I met with a road accident before the film went on set. I was bed-ridden for four months due to the accident. I feared that I might be replaced. The shoot was postponed until my recovery. I am grateful to Vidya akka and Vass garu for their gesture.
Director Teja garu is like a brother. Working with him was like attending an acting workshop. He helped me explore multiple ways of doing a scene.