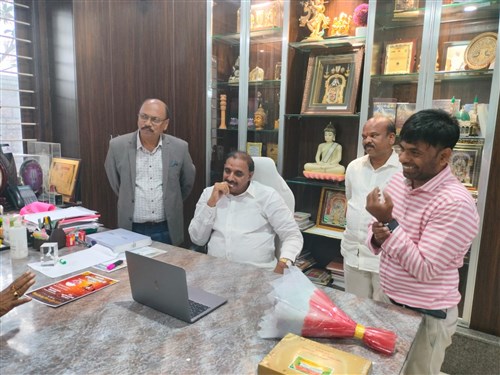 'Nachinavadu,' directed by Laxman Chinna and produced by Aenuganti Film Zone, stars Laxman Chinna and Kavya Ramesh as the lead pair. The film is produced jointly by the actor-director in association with Venkata Ratnam. It will be released in theatres soon.
A romantic love melody titled 'Kadhile Kaalam Aagindhe' from the movie is out. BRS MLA Arekapudi Gandhi, who represents the Serilingampally constituency, released it at his hands and wished the team all the best. Rendered by Javed Ali and written by Harshavardhan Reddy N, the song is lively.
The actor-director-producer Laxman Chinna thanked the MLA for doing the honors. He described 'Kadhile Kaalam Aagindhe' as a love melody enlivened by the talent of composer Mejjo Josseph. "The leader wished us all the success. 'Nachinavadu' has a women empowerment message at its core. The family audience, including youngsters, will find the movie special," the creators said.
Movie: Nachinavadu
Cast: Lakshman Chinna, Kavya Ramesh, K.Darshan,Nagendra Arusu, Lalita Nayak, Prran Bhatt, AB.RP.Reddy, Praveen and others
Publicity Design: Anil, Sai
Sound Effects: Ethiraj
Colorist: R.Gopala Krishnan
Art Director: Nagesh, Gagan
Cinematography: Anirudh
Editor:KAY.Papa Rao
Associate Directors:Manoj Kumar, Viswanath, Phani Kumar
PRO: Paul Pavan
Digital PR: Vijaynag Yarlagadda (Vijay DigiTech)
Choreography: Arya Raj Vir
Music:Mejo Joseph
Story,Screenplay, Direction: Lakshman Chinna
Lyrics: Harshavardhan Reddy
Producers: Lakshman Chinna, Venkat Ratnam
—
Pavan Kumar
9849128215
Film Reporter