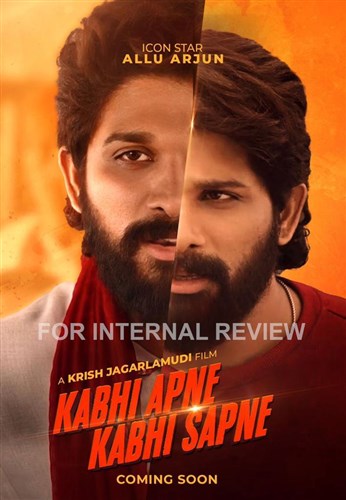 Nation Award winning actor Allu Arjun is currently busy with the shoot of Pushpa 2. After that Trivikram and Sandeep Vanga films are in the line. But recently another director has joined his lineup.
A surprise poster of Allu Arjun collaboration with renowned director Krish Jagarlamudi is currently going viral on social media. This leaked first look poster with the title "Kabhi Apne Kabhi Sapne" and the sentence "A Krish Jagarlamudi Film" begs the question, what is the story about?
Makers provided a glimpse today in which gave answer to lot of questions. Icon Star Allu Arjun is seen in two different looks in the teaser, which was only released in Hindi.
It features talented bollywood actors like Girish Kulkarni, Bharat Bhatia, Ketagi Mategaonkar in special appearence, Tushar Pandey. Allu Arjun says only two dialogues in the end "Papa Kehte The", "Saaman Nahi Eey Hamaara Samman Hain."
Fans and moviegoers have always wanted these two to collaborate and give another memorable character like Cable Raju in Vedam, but after seeing the teaser, they are perplexed. We'll have to wait a few more days to find out.
Whatever this combination brings, the audience will be surprised, and it is currently trending on social media