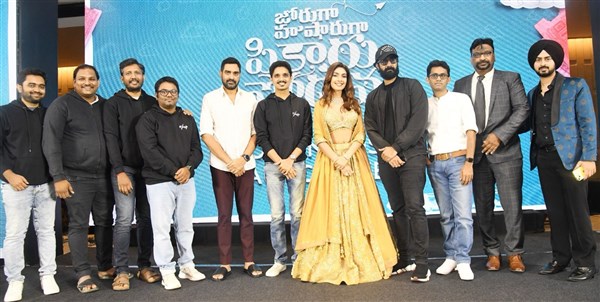 Young actor Santosh Sobhan and debutant Phalguni Khanna starrer 'Joruga Hushaaruga Shikaaru Podhama'. The movie is being produced by Praveen Nambaru and Srujan Yerabolu under the banner of Story Cat Entertainments in association with S Originals and MR Production. The film is directed by Subhash Chandra. Yesterday makers unveiled the film's motion poster in a grand launch event.
Director Krish Jagarlamudi said, All the best to the whole team of Joruga Hushaaruga Shikaaru Podhama. My friend Praveen called me during the Corona first wave. He narrated a good story and we wanted to make a movie. He told me to listen to the story once. Santosh Shobhan is a hero. He narrates the whole country as if telling that story. I had a gang when I was studying in Siddharth College. We used to watch second shows. Praveen and I used to study well. But mostly we used to discuss movies. We used to want to make movies. I have been seeing Praveen for three years. He is working for the team and for Subhash tirelessly. I was surprised to see Praveen's passion. He also writes good scripts. Subhash has done justice to this movie. The visuals are amazing. Music is good. Santosh Sobhan has a lot of ease. He should get a big success. I want the movie to be a big hit. I think that the audience will love JHSP.
Producer Praveen said, "This is my first film and I've had lot of doubts. But the director Subhash shot it wonderfully. The audience will the emotion behind visuals. But as a producer I found my team after lot of work. The movie stayed with us even though it was late. I made the film with the intention of supporting new people. I will do it in the future as well."
Director Subhash Chandra said, 'Thanks to Krish garu and Raj garu who came to the event for us. Like the title Joruga Hushaaruga Shikaaru Podhama, the movie is gking to be cozy. A light hearted travel musical love story. I can say that you will laugh comfortably while watching this movie. Four years time, three thousand people, two corona lockdowns, this movie has come so far because of my team's support. We were able to complete the film despite all the difficulties because of the team.
Hero Santosh Sobhan said, ' A sweet simple romcom movie. Most of our team is new. Praveen led us all from the front. It was a pleasure to work with him. Praveen has more qualities to become a big producer. I want to do a film with him again. I know Subhash's hardship. Phalguni did a wonderful job in the role of Vindhya. I want all of us to get a good name with this movie.
Heroine Phalguni said, 'I have dreamt of this day for many years. Finally, our movie is about to release. Thanks to the directors and producers who believed in me and gave me a chance. Thanks Santosh. I am very much excited for the release of the movie. I hope Telugu audience will support me.
Cinematographer Sai Santhosh said, 'We made this film as if a team went on vacation. Thanks to my team who supported me a lot. Thanks to our producer Praveen and director Subhash. I hope that everyone will support our film.
Music director Naga vamshi said, My relationship with Subhash is thirteen years old. Our journey started from a short film. This is our first feature film. Subhash gave me as much freedom and time as I needed. That's why it's so good. Thanks to the team for supporting me.
Actors: Santhosh Sobhan, Phalguni Khanna and others
Technical category:
Banners : Story Cat Entertainments, SR Originals, MR Productions,
Producers: Praveen Nambaru, Srujan Yerabolu
Director: Subhash Chandra
Executive Producer: Rohit Krishna Verma
Music Director: Naga vamshi
Editor: Anil Kumar
Cinematography: Sai Santhosh
PRO: Vamsi Kaka
Sound Designer: Nagarjuna Thallapally.