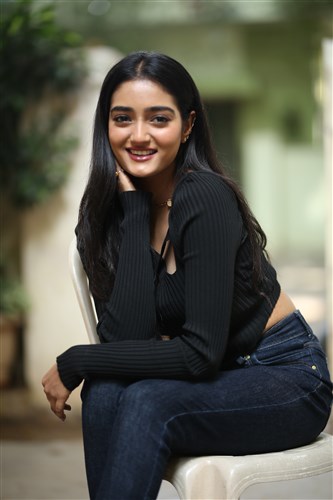 Bigg Boss Telugu 5 title winner VJ Sunny's upcoming movie titled 'Sound Party' is up for theatrical release on November 24. The entertainer stars budding heroine Hrithika Srinivas as the heroine. The upcoming actress, who is related to Amani as a niece in real life, will be seen in a bubbly role in this Full Moon Media Productions' venture.
Produced by Ravi Polishetty, Mahendra Gajendra, and Sri Shyam Gajendra, the comedy is presented by Jaya Shankar. "Ravi sir made his presence felt throughout the making stage. He selected me after watching a video clip. He used to call me and inquire me how I was doing. He would appreciate my performance," Hrithika says.
In this interview, the young beauty talks about her character, director Sanjay Sheri's work, her experience of teaming up with VJ Sunny, and more.
Excerpts from the interview:
I am tense ahead of the release of 'Sound Party'. At the same time, I am excited. This November 24th, I am waiting for the audience to be entertained thoroughly! When I listened to the story, I sensed an element of curiosity in the subject. Moreover, this one balances entertainment and content.
I was brought up in Chennai and Bengaluru. I am currently a full-time actress. I am pursuing a Bachelor's degree in English Literature. I wanted to become an actress even as a child. I was 16 when I decided to become an actress. As a child artist, I did a couple of movies in Tamil. Learning Bharatnatyam helped me understand the importance of the Navrasas. Acting became less hard thanks to my classical dance training. I also did Ads. When I watched a movie that I don't want to name now, I felt that I could bring my own unique perspective to different roles. I want to live a lot of characters and that's possible only with cinema.
In 'Sound Party', Siri is my name. She is smart and is integral to the story. She is like Dhoni in the film. And she gives a twist in the end. It's like a sixer from Dhoni. The subject is serious but the treatment is comical! Siri has only a slight similarity with the real me.
The father-son duo (played by Sivannarayana and Sunny) are innocent but are greedy to make money. What they do to make easy money and what they face as a consequence is what 'Sound Party' is about. The element of Bitcoin is integral to the story.
Sunny is a huge TV star. You saw his real persona in Bigg Boss Telugu. He is always jovial and genuine. He is always open. Once he is on set, the whole set resonates with his energy. He is a nice co-star and would sometimes correct my pronunciation.
I enjoyed doing the film, both dialogue-wise and otherwise. I hope the audience, too, are going to enjoy watching the film. Director Sanjay Sheri is making a superb debut after writing so many movies. His comedy style is unique.
I am related to Amani aunty. I was not born when she left the film industry. That's why I didn't get to accompany her to film sets. But I got to be with her on TV sets. She has always supported my acting dreams and gives suggestions from time to time. When I told her I wanted to become an actress, she asked me to be prepared for hardships on my path given I am too young. She told me to be prepared for challenges.
I personally like Sai Pallavi and Nani sir a lot. They are natural performers.
Cast:
VJ Sunny, Hritika Srinivas, Sivannarayana, Ali, Saptagiri, '30 Years' Prudhviraj, 'Mirchi' Priya, Manik Reddy, Ashok Kumar, Kadambari Kiran, 'Gemini' Suresh, Bhuvan Saluri, 'I Dream' Anjali, Vasu Inturi, Chalaki Chanti, Prem Sagar, RJ Hemanth, Shashank Mouli, Trinadh, Krishna Teja and others.
Crew:
Director of Photography: Srinivas Reddy; Editor: G Avinash; Music Director: Mohit Rahmaniac; Lyricist: Poornachari; Production Designer: Rajeev Nair; Co-Writers: Patel Nandurka, Sundar Palutla; PRO: GK Media; Chief Co-Director: Chinna; Co-Director: B Santosh Krishna; Associate Directors: Yashwanth Valaboju, Krishna Chaitanya T; Assistant Directors: /Yash, Dilip Kumar Raju, Yuvan Phanindra S: Line Producer: Sivakanth Vanga; Executive Producer: Bhuvan Saluru; Producers: Ravi Polishetty, Mahendra Gajendra, Sri Shyam Gajendra; Presented by: V Jayashankar; Written and Directed by Sanjay Sheri.
—
Kumar Swamy PRO [Boxoffice]
kumarswamyswamypro@gmail.com
9963444643