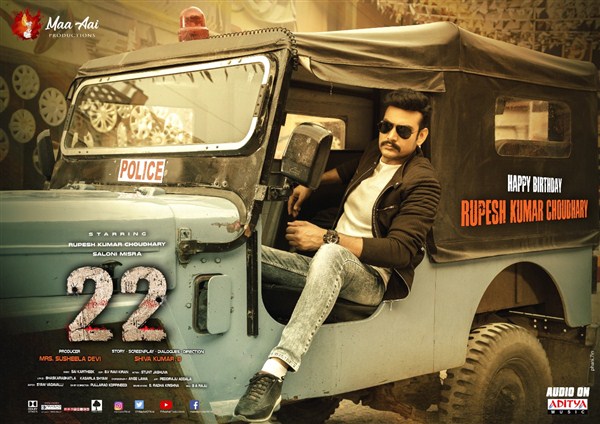 " '22' Movie is an Action Thriller. This number is a major point in the film. I can't reveal the storyline now but the film will definitely give a new kind of different experience for the audiences", Says Hero Rupesh Kumar Choudhary. He is playing as Hero in '22'. Protege of Dashing Director Puri Jagannadh, Sensational Director VV Vinayak Super Successful Director Maruthi, Shiva Kumar B. is Directing this action thriller along with providing Story, Screenplay and Dialogues Produced by Smt Susheela Devi in Maa Aai Productions Banner. Saloni Misra is the heroine. Hero Rupesh Kumar Choudhary is celebrating his birthday on August 2nd. Here's the special interview with Rupesh Kumar Choudhary.
What is your background?
I came from a business family. I used to look after the business supporting my father. I am very much interested in acting but I don't know how to enter into Industry. We find thrill in doing the things we love. I convinced my family members and entered into films. I used to have a lot of fears before coming here. Now I am very happy and finds work satisfaction as I love to do this.
How did you start your journey with Director Shiva?
Anee Master introduced Shiva to me. We did a web series. Then I listened to the story of '22'. I got excited while Shiva narrating the story. I felt happy that I will be doing the role of a powerful police officer in this film. But, I have a small fear of carrying such an intense role. I am proud of doing the role of a powerful police officer in my first film itself.
How did you feel watching yourself as a police officer onscreen?
I have no words to express my feeling. I have felt such a great experience. But, I can say one thing. I looked 1000 times better than how I expected myself as police since my childhood. Still, at times I find it tough to believe that I pulled off such an intense role. I think I did complete justice to that role.
Do you have any inspiration to do that role?
I admire policemen a lot. Now when I am doing this role my respect towards them has further increased. I drew inspiration from Jr NTR in 'Temper', Power Star Pawan Kalyan in 'Gabbar Singh', and from some real police officers.
This film has received the most celebrity support in recent times. How do you feel about it?
Shiva and I worked very hard for this film. Even in my wildest dreams, I never thought that my film will be launched by my favorite hero Venkatesh garu. I was very happy that Hero Sai Tej and many celebrities attended the launch of our film and extended their blessings towards us. VV Vinayak garu and C Kalyan garu launched the title and logo of our banner. Puri Jagannadh garu, Maruthi garu along with Nagarjuna garu, Prabhas garu released the teaser and songs from our film. I feel lucky to have the support of all these stars and directors for our film. I thank each and everyone from the bottom of my heart. It is because of BA Raju garu only, this film has got such hype. Special thanks to him.
Tell us about '22' Movie?
'22' Movie is an Action Thriller. This number is a major point in the film. I can't reveal the storyline now but the film will definitely give a new kind of different experience for the audiences.
Tell us about the making of Director Shiva Kumar?
Though this is the first film for Shiva, He has made the film with clarity like an experienced director. We both discussed all things before we were moving to shoot. So, we made the film lavishly without compromising in making and quality. I impressed with his way of narrating the story and his making style. He took care of each and everything like my dialogue delivery, hair, makeup, and costumes. He succeeded in presenting me as a powerful police officer 'Rudra' onscreen effectively.
About Heroine and other artists?
'Falaknuma Das' fame Saloni Misra in which she played as Zoya is acting as the heroine in our film. She did the role of a CBI officer which has very good importance. She performed some stunts in Action Sequences along with me. Characterizations and Picturisation style of both roles stands as a special attraction in the film. Popular and senior actors Jayaprakash, Rajeswari Nair, Fidaa Saranya, Pooja Ramachandran, Ravi Varma, Devi Prasad will be seen in important roles.
What is the reason behind casting a Bollywood actor as a Villain?
When our team was discussing who should play the role of villain in this film, I remember Vikramjeet Virk who played as a villain in 'Heart Attack'. We approached him and he liked his character. He played as the main villain in '22'. It created a very good buzz for the film.
The film looks rich technically. Tell us about how it will be?
'Mantrick Studios Pvt Ltd', the company which provided visual effects for films like 'Rangasthalam', 'Bharat Ane Nenu', 'Maharshi', 'Sye Raa', worked for this film. It became a big plus for our film.
This year you are celebrating your Birthday on Friendship day. Tell us about your Friends?
I have a lot of friends since childhood. Many became friends in my line of business. Now, Shiva and the entire team of '22' became very good friends with me. Happy Friendship Day to all of them…. concludes Rupesh Kumar Choudhary