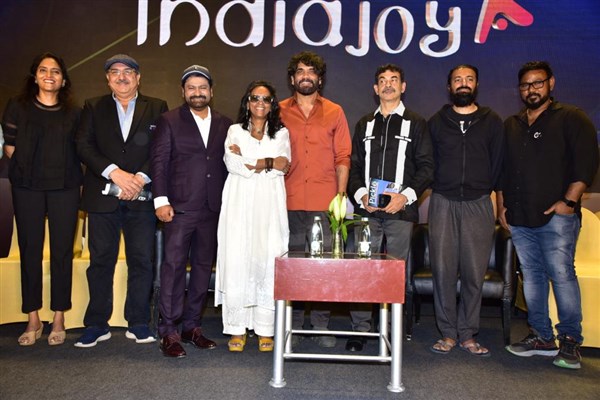 Cinematic Expo event presented by India Joy and Flying Mountain Concepts is held in a grand manner at Novotel, Hyderabad. Cinematic Expo became a dias to introduce latest cutting edge technology in 24 crafts of Cinema. Latest technology about Cinematography, Production Design, VFX, and Special Effects departments is introduced in this year's Expo. Tollywood Star Hero, King Nagarjuna graced the event as chief guest. Popular director Nag Ashwin also attended the event as a special guest. Many dignitaries like Telangana State Industries, Commerce, IT Departments Principal Secretary Jayesh Ranjan, Cinematic Expo Founder, Telugu Cinematography Association President PG Vinda, Roto Maker Founder Mike, Green Gold Chief Marketing Head Bharath, Country Head For Technical Biren Ghose. Director Nag Ashwin, Producer Supriya, Dancing Atom Creative Head, Founder Saraswathi Vani graced the event with their presence. On this occasion…
King Nagarjuna Says, " Technology is changing every day these days. I am very happy for being invited to this event. We have started Annapurna Studio in 1974. We thought that it would be great if atleast one film shoot happened every month. Since then a lot has been evolved and new changes have come in place. So much have changed. Hyderabad is emerging as capital for Film Industry. Entire India is following South Cinema. Amazing directors like Nag Ashwin are making films with their incredible talent. We have reached Oscars too. India Joy's graph has been on a rise. Telangana Government, Industries Minister KTR, IAS Jayesh Ranjan are pending their valueable co-operation. To know more about Gaming, Animation, VFX, come here and learn amazing stuff about them. Our Annapurna College also offers numerous courses in filmmaking. Thanks for inviting me for this event."
Director Nag Ashwin says, " Thanks for inviting me to India Joy Event. I was also a student of animation courses. I roamed around VFX companies with my stories. Everyone asks why we are not making films with Hollywood quality. But, since the last ten years we are making films with amazing quality. Even Hollywood studios are doing their work here. I tried to make 'Project K' as an out and out made in India film with VFX companies founded here only. I will make my next film working with VFX companies operating here only and deliver a film with Hollywood quality.
Telangana State Industries, Commerce, IT Departments Principal Secretary Jayesh Ranjan says, " When the statebwas newly formed, Animation and Gaming industries didn't developed that much. We have lifted this industries to this level. We introduced new policies. The policy we introduced in 2016 helped for the cause very much. Many are of opinion that many policies won't come into action. But, we implemented every policy in our state."
KK Senthil says, " It feels great that an event like this is happening here. Hyderabad is going great in every industry. Cinematica and India Joy jointly conducting this event about Movies, VFX, Animation, will definitely raise awareness among many people.
PG Vinda says, " We can't imagine our lives without Cinema. India Joy must undertake so much programmes like this. Everyone must be provided with awareness about technology changes. Pls come here and know more about technology."
Country Head For Technical Biren Ghose says, " I have been attending programmes happening at HICC Centre for the last eleven years. I am very happy to take part in India Joy's event which is happening for the sixth time. Telangana Government is working great in implementing policies. We are getting great co-operation from the government. Now everyone is getting an idea that Animation, VFX, and Cinematography all comes under a single industry.
Roto Maker Founder Mike Says, " India Joy is conducting their sixth event in such a grand manner. Thanks to KTR garu and Jayesh Ranjan garu for their help. We are getting speakers from international level. We are going to held discussions about Animation, VFX, Cinematography."
Asish Kulakarni says, " Gaming, VFX and Animation industry has been developing for the last 10 years. Governments policies, KTR garu, Jayesh Ranjan garu are helping the industry alot."
Saraswathi Vani says, " My father has started Animation in 1984 itself. He wishes to win Oscar. I wanted to become a film director when I was a kid. As I am a woman many told against it. We are thriving because of Telangana Government decisions."