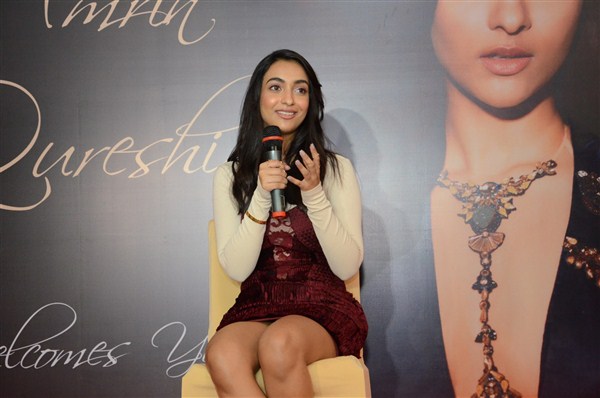 'My goal is to act in story oriented, script driven films and to become successful heroine in all languages', says Amrin Qureshi… She is a Pakka Hyderabadi Girl who is currently doing two Bollywood films. It is known that Telugu SuperHit 'Cinema Chupista Mava' is being remade in Hindi as 'Bad Boy'. Amrin is pairing with Namashi Chakraborty, son of popular actor, veteran hero Mithun Chakraborty. Raj Kumar Santoshi is Directing this film while Sajid Qureshi is producing under Inbox Pictures banner. 'Bad Boy' will release as a Summer Special. Amrin came to Hyderabad for the song shoot of this film. She interacted with media at Daspalla Hotel in Hyderabad.
Amrin said, " Hyderabad is my birth place. I did my schooling at Shiva Shivani Public school in Secunderabad. Then I underwent training at an acting school in Mumbai. I am thrilled to come to Hyderabad as a heroine for the song shoot of my first film 'Bad Boy'. This is the remake for Telugu SuperHit 'Cinema Chupista Mava'. I am also playing as a heroine in 'Julayi' remake too. Mithun Chakraborty gari son Namashi Chakraborty is playing as Hero in both films."
How do you get attracted towards acting ?
– While I was studying, I thought of becoming a business woman. But, subconsciously acting was always there in my mind. So, I developed interest towards acting. I chose acting as my profession. After I completed my training at Mumbai, I came to know that auditions are going on for 'Bad Boy' heroine role. I took the audition without revealing my identity. I have proved myself in auditions and got selected as heroine of the film.
Telugu remakes became Blockbusters in Bollywood. How confident you are about your films ?
– I am very confident about my two films. Those two are remakes of Telugu Superhits 'Cinema Chupista Mava' and 'Julayi'. I feel proud as a Telugu girl to act in Telugu remakes in Hindi. Both films underwent some changes matching to the trend of Bollywood.
Which films do you like… Bollywood or Tollywood ?
– I grew up watching Telugu movies since my childhood. I have a lot of favourite films in Telugu. I love Bollywood movies as well.
Who is your inspiration in acting ?
– Savitri garu and I like Sridevi madam very much. I learned acting drawing inspiration from them.
How is it working with Namashi Chakraborty ?
– Namashi is son of Mithun Chakraborty Garu. He is a great co-star and works very hard. He helped me a lot during dubbing and songs. I feel very comfortable working with him. I am very happy working with Namashi for both of my films.
Which Hero do you like to work in Telugu ?
– I watch all heroes films. I love to work with Mahesh Babu, Prabhas, Ram Charan, Allu Arjun Vijay Deverakonda. I love Sai Pallavi's acting and dance.
Would you do Sri Devi gari biopic if you get a chance ?
– I am at the starting stage of my career. I want to prove myself as an actor. If I get a chance to do Sri Devi gari biopic, it would be a huge responsibility for me.
Hindi movies release big here too. Would you like to say anything to the audience ?
– I have special bonding with Hyderabad. Many of my friends and relatives are from Hyderabad. I am eagerly waiting to act in Telugu films. I am getting good offers from Telugu too. I seek your blessings for my both films I am currently doing.