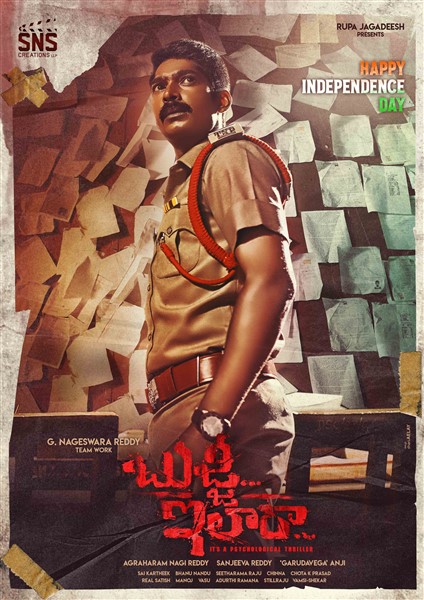 Sunil and Dhanraj are playing lead roles in an upcoming flick titled 'Bujji Ilaa Raa'. 'It's A Psychological Thriller' is the tagline and the film indeed falls under psychological thriller genre. Chandini Tamilarasan is the leading lady.
The film's title poster was released few days ago to good response and today Hero Sundeep kishan launched the first look with Dhanraj's character as CI Keshava Naidu, on the occasion of Independence Day. Dhanraj looks intense as the police officer in the poster, in the backdrop of police station. Going by the poster, Dhanraj plays a serious role in the film.
'Garudavega' Anji is directing the film, besides handling cinematography. Popular director G Nageswara Reddy provides story and screenplay of the film. Agraharam Nagi Reddy and Sanjeeva Reddy produce the movie under SNS Creations LLP and G Nageswara Reddy Team Work as Production No 2.
Sai Karteek scores the music, while Bhanu and Nandu duo provide dialogues.
Cast: Sunil, Dhanraj, Chandini Tamilarasan, Posani Krishna Murali, Shrikanth Iyyyangar, Satya Krishna, Venu, Bhupal, "Temper Vamsi
Technicians:
Story, Screenplay: G Nageswara Reddy
Cinematography, Direction: 'Garudavega' Anji
Producers: Agraharam Nagi Reddy, Sanjeeva Reddy
Presents: Rupa Jagadeesh
Banners: G Nageswara Reddy Team Work, SNS Creations LLP
Music Director: Sai Karteek
Dialogues: Bhanu, Nandu
Art Director: Chinna
Editor: Chota K Prasad
Fights: Real Satish
Costumes: Manoj
Makeup: Vasu
Executive Producer: Seetharama Raju
PRO: Vamsi-Shekar