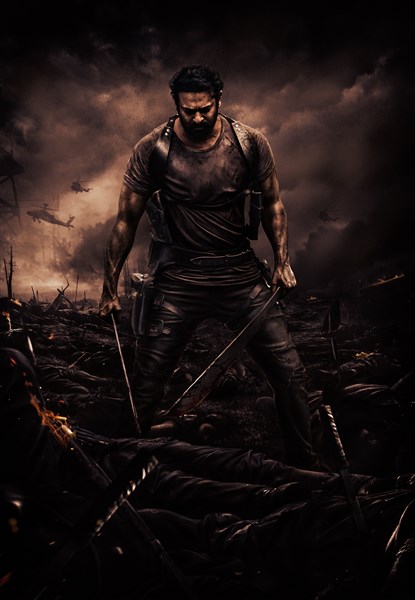 In the 100 years history of Telugu cinema, each hero has his own uniqueness and excellence. Senior NTR is very renowned for phenomenally giving life to mythological roles that no one else could. While ANR garu is a giant in social films, Superstar Krishna garu is credited with bringing latest technologies to the Telugu cinema for the first time. Krishnam Raju garu is in charge of ferocious roles. Megastar Chiranjeevi was the undisputed box office king, and his dances became a massive sensation. Prabhas is the star who has elevated Telugu cinema to a pan-India level, following in the footsteps of predecessors and carrying on the spirit and legacy of Telugu screen giants. Today is the birthday of this Pan Indian Rebel Star.
New stars debuted on the Telugu screen in the new millennium, including Mahesh, NTR, and Pawan Kalyan. Prabhas made his debut in the film Eeshwar at the time. Prabhas has demonstrated that legacy only helps until the debut; after that, it is their skills that maintains them. Prabhas, who was presented in the film Eeshwar as the successor to Rebel Star Krishnam Raju, demonstrated his acting talent by taking on a range of roles. Those who saw Prabhas' performance in Eeshwar predicted that he would become a future star. The audience was drawn in by Prabhas' display of all emotions, dances, conflicts, and stunning roles. Prabhas' heroism won the admiration of the audience from all demographics in the first film.
While Varsham was Prabhas' first huge commercial blockbuster, Chatrapathi, directed by India's pride SS Rajamouli, made him unstoppable star hero. With the films Darling and Mr. Perfect, Prabhas became quite close to the family audience. Movies like as 'Raghavendra,' 'Adavi Ramudu,' 'Chakram,' 'Pournami,' 'Yogi,' 'Munna,' 'Bujjigadu,' 'Billa,' 'Ek Niranjan,' and 'Rebel' all demonstrated Prabhas' flexibility as an actor. Mirchi is a one-of-a-kind super hit in his career. With the unprecedented success of the Baahubali flicks, Prabhas became a pan-India sensation.
Prabhas is also credited for boosting the Telugu states' box office business to a national level. Prabhas has shattered several records that no Telugu hero has ever broken. Prabhas shown with Baahubali 2 that Telugu film is capable of grossing above 2000 crores. Prabhas is the first hero to earn over 10 million dollars in the overseas market. Prabhas' image has grown beyond making merely Telugu films after Baahubali flicks. Furthermore, Prabhas' image has expanded so much that it can no longer be limited to Tollywood. As a result, Prabhas has secured major Pan-India films.
Prabhas has a large fan base not only in India but also in countries such as Japan, China, Malaysia, Singapore, and the United States. The fans consists of both young people and families. Prabhas' wax statue was revealed in 2017 at Madame Tussauds in Bangkok. Prabhas is the first South Indian celebrity to have a wax figure in this museum. Prabhas proves to be a brilliant star with heart whenever society needs him. Prabhas has participated in numerous service programmes during the last 20 years. During typhoons, floods, and covid, he provided massive help to the people. He took over his father's 1650 acres of Khazipalli Reserve Forest land and began the essential development programmes for the Eco Park.
Prabhas is the undisputed king of charitable giving. Darling contributes more to governments during natural disasters than any other celebrity. This demonstrates Prabhas' love for society and his fans. Prabhas is also breaking records as the first South hero to have the most social media fans. His personality is noble, his craze is global, and his stardom is unmatchable.
Looking at Prabhas' massive filmography, it is easy to anticipate that he will conquer Indian cinema. Salaar Part 1: Ceasefire, directed by Prashant Neel and produced by Hombale Films, will be released on December 22. This film is eagerly anticipated not only in India, but also around the world. Kalki 2898AD, a pan-global project produced by Vyjayanthi Movies and directed by Nag Ashwin, is set to release in 2024. Director Nag Ashwin is producing Kalki 2898 AD with latest technology and on a massive budget. Kalki 2898 AD will undoubtedly make history. The Kalki 2898 AD glimpse, which was released during the San Diego Comic-Con, received a record number of views. Prabhas film, directed by Maruthi, is going to be something special. Prabhas will be seen in a vintage avatar, who has chosen a different genre. The spirit film, directed by sensational director Sandeep Reddy Vanga, has high hopes. All of these films are being made in distinct genres, and Prabhas will be seen in different looks in each of them. Wishing Prabhas garu, the conqueror of Telugu Cinema and People's King a very happy birthday.