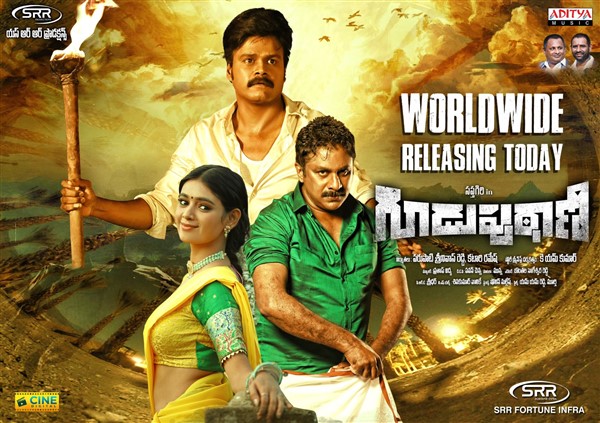 Film;guduputani
Cast;Sapthagiri,Neha solanki,raghu kunche,& others
Directed by ; Kumar
Produced by ; Srinivas reddy,khatari ramesh,
Release date; 25/12/2021
Guduputani is an engaging thriller featuring Saptagiri and Neha Solanki in main lead roles. Promising actor Raghu Kunche played a very important role. The film is directed by Kumar and produced by Srinivas Reddy, Khatari Ramesh. The film is released on christmas eve, December 25th 2021.
Guduputani is gripping and very entertaining. Hero Saptagiri nailed it with his typical acting style. Raghu Kunche has a meaty role and he will entertain you to the core. The film is a gripping thriller with comedy punches and scary elements. The film is made on a grand scale and it is a complete family entertainer.
Guduputani film begins with a robbery. Few thieves will rob prestigious temple ornaments. Police will be cracking the case. On the other side, The lead actor, Saptagiri will be in love with Neha Solanki. They will be in deep love and decide to get married in a sacred Temple. As they are getting married in a Temple, a notorious thief gang will come to the same temple for theft. What will happen to their marriage and how Saptagiri chases the criminals is the rest of the story.
As the film is a gripping thriller, Music plays a key role in the film. The Background score has taken this film to the next level. Cinematography is crystal clear, Locations are colorful and Screenplay is gripping. The whole credit for movie success goes to director Kumar. The film looks rich and quality money was spent while shooting.
Saptagiri will entertain you to the core. His typical acting style, comedy punches, slapstick dialogues and gripping twists and turns will engage you to the film. This film will surely be a hit film for Saptagiri. Raghu Kunche steals the show. His acting style and character entertain us to the core. His role will be one of the major highlights in the film. Heroine Neha Solanki will entertain us with her oomph looks. Other actors did as required.
Guduputani is a gripping thriller with scary twists and comedy turns. The film is a roller coaster ride and Saptagiri, Raghu Kunche steals the show. Overall, Good film in recent times. Watch it in theaters.
Punch Line ; Guduputani is gripping and entertainer
moviemanthra.com; Rating – 3/5