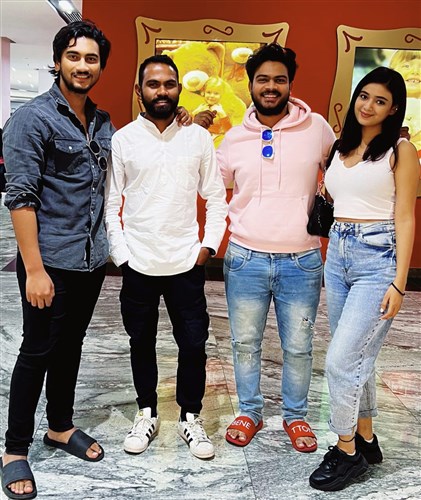 Game On movie is going to be one of its kind for the new generation of movie goers.
How a guy who wants to end his life accidentally enters a Real time game, what are the tasks in the game, what is the reason for him to be picked in the game, who is playing this game and what's the ultimate reason for the whole is going to be the core drama of the movie.
Almost all the characters in the film are grey and how eventually all the characters unfold is shown in a maddening manner said lead actor Geetanand in recent interview.
The producer confidently says, After Ratham movie success, Geetanand's
'GAME ON' is going to put him top of the list.The producer of the film is happy to be collaborating with Geetanand and Dayanandh.
Dayanandh who is the is 27 years old young director but the movie he has made show the expertise he with holds as a mainstream commericial and aesthetical film maker and he is going to make a mark with this movie.
They also have a great star cast in the film. Madhoobala, she is playing a very important role In the film. She is never played a character like this and I'm sure all the new age movie goers and family audience will connect immensely with her role. Adithya menon, who has made an exclusive mark with Karthikeya 2 is playing an intense character in the film too. They have Neha solanki playing the female lead, she has done an amazing job in terms of performance and glamour too and also have subhaleka Sudhakar garu, Kireeti, Big boss fame Vasanti Krishnan playing important roles in the film too.
They have released the First glimpse one month ago and received very good response.The teaser was launched by Vishwak Sen recently and received tremondrous response for the visuals, direction, Bgm, performances and the unique play of the game.
The first song "Richo Rich" released on 9th March music by THE NAWAB GANG. Who are recently trending and one the best rap gang in Hyderabad.
Team have recently released their second single "PADIPOTHUNNA" sung by Anurag Kulkarni and Harika Narayan which hit 2 Millions views in 2 days and the track is trending on all the social media platforms.
Whole movie team collaboratively done a fantastic job and cast and crew are very confident about movie and hoping for big hits and expecting audience will receive the movie with big heart.
Game On movie is ready to hit the theatres Worldwide this summers !
CAST: Geetanand , Neha Solanki , Madhoo Bala , Adithya Menon ,Subhalekha Sudhakar , Vasanthi Krishnan
Story, Screenplay, Dialogues By: Dayanandh
Produced by: Ravi Kasturi under A Kasturi Creations , Golden Wings Productions
Music Director : Abishek AR
Songs: Nawab Gang, Ashwin-Arun
Director of Photography: Aravind Vishwanathan
Editor: Vamsi Atluri
PRO : Madhu VR