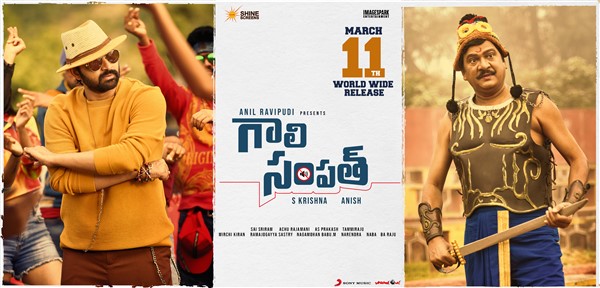 Blockbuster Director Anil Ravipudi is acting as a Presenter for 'Gaali Sampath'. In addition to that Anil is providing Screenplay and Direction Supervision as well for this film. Anil Ravipudi's involvement brings special craze for this film. After delivering 5 successive Blockbusters, Anil Ravipudi is providing Direction Supervision for yet another Blockbuster in making, 'Gaali Sampath'. The film is being Produced by Anil's Co-Director, Writer, Friend S. Krishna under his newly launched ImageSpark Entertainment along with Saahu Garapati, Harish Peddi's Shine Screens banner. This film features Young Hero Sree Vishnu, Lovely Singh as Hero and Heroines while Natakireeti Dr. RajendraPrasad will be seen in the titular role as 'Gaali Sampath'. Anish is Directing this film. This film is getting ready to release in a grand manner on March 11th for Maha Shivaratri.
Producer S. Krishna said, " 'Gaali Sampath' which is being made under the Direction Supervision of my friend Anil Ravipudi has completed its shooting. Currently the post-production works are going on a brisk pace. The film is releasing Worldwide on March 11th as Maha Shivaratri gift."
Natakireeti RajendraPrasad, Sree Vishnu, Lovely Singh, Tanikella Bharani, Sathya, Raghu Babu, Sreekanth Aiyyangar, Mirchi Kiran, Surendra Reddy, Gagan, Memes Madhu, Aneesh Kuruvilla, Rajitha, Karate Kalyani, Sai Srinivas, Rupalakshmi, and others are the principal cast.
Story: S. Krishna
Script Assistance: Adinarayana
Cinematography: Sai Sri Ram
Music: Achu Rajamani
Art: AS Prakash
Editor: Thammiraju
Executive Producer: Nagamohan Babu .M
Dialogues: Mirchi Kiran
Lyrics: Ramajogayya Sastry
Fights: Nabha
Choreography: Sekhar, Bhanu
Make-up: Ranjith
Costumes: Vasu
Chief Co-director: Sathyam Bellamkonda
Production: Shine Screens, ImageSpark Entertainment
Producer: S. Krishna
Screenplay, Presented by and Direction Supervision by Anil Ravipudi
Director: Anish