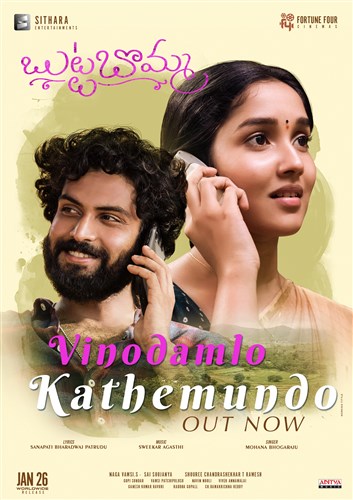 Written by Sanapati Bharadwaj Patrudu and sung by Mohana Bhogaraju, the number is composed by Sweekar Agasthi
Sithara Entertainments, the leading production house in Telugu cinema, is collaborating with Fortune Four Cinemas for Butta Bomma, a feel-good rural drama. Anikha Surendran, Surya Vashistta and Arjun Das play the lead roles in the film directed by debutant Shourie Chandrasekhar Ramesh. The first single from the much-awaited drama, Peru leni Ooruloki, a foot-tapping number, sung by Mohana Bhogaraju and composed by Sweekar Agasthi, was launched today.
The song introduces you to the world of its lead protagonists who're gradually falling in love with one another over several mobile conversations. Satya, the girl, is someone who finds happiness in little pleasures and brings liveliness into her surroundings wherever she's around. Even while she's occupied with her daily activities in the house, she constantly sets her eyes on the mobile phone, through which she interacts with an auto driver. The latter, meanwhile, is clearly obsessed with the girl.
The sleepy, tranquil surroundings of the song are one of its major highlights that transports you to the little world of the characters. Lines like 'Anke maari lanke vese kottha sankhyochhindha..Navvulanni mootagatti mosukosthu vundha..' and 'Alupu salupu anuvantha kooda tala daachukoni churukanta, tana ventapaduthu nimishaalu mellaga karige prathi poota..' showcase the lyrical precision of Sanapati Bharadwaj Patrudu and capture the spirit of the situation perfectly.
"The main inspiration behind this song is the belief that the director Shourie Chandrasekhar Ramesh had in my abilities. I will always be thankful to him for giving me this opportunity. Sweekar Agasthi's tunes are always catchy and life-like. It's wonderful to work with him again. Mohana Bhogaraju did a terrific job with the rendition," said lyricist Sanapati Bharadwaj Patrudu.
Sweekar Agasthi's catchy composition and Mohana Bhogaraju's energetic rendition leave behind a solid impact. Navya Swami, Narra Srinu, Pammi Sai, Karthik Prasad, Vasu Inturi, Mirchi Kiran, Kancharapalem Kishore and Madhumani too play important roles in it. The film, which releases in theatres on January 26, has cinematography by Vamsi Patchipulusu and is produced by S Naga Vamsi and Sai Soujanya. Ganesh Kumar Ravuri, the writer who shot to fame with Varudu Kavalenu, is the dialogue writer.
Crew:
Cinematography: Vamsi Patchipulusu
Dialogues: Ganesh Kumar Ravuri
Editor: Navin Nooli
Production designer: Vivek Annamalai
Production controller: C H Ramakrishna Reddy
PRO: Lakshmi Venugopal
Producers: S Naga Vamsi and Sai Soujanya
Director: Shourie Chandrasekhar Ramesh
—
–
Thanks & Regards
L.VENUGOPAL
journalist, P.R.O
+91 9949912346