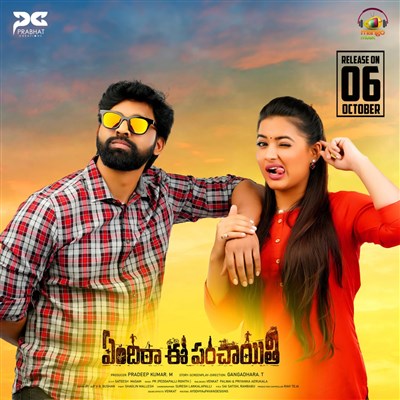 The films with the rural backdrop and the stories close to reality are gaining popularity. They are turning out to be blockbuster hits at the box office. Meanwhile, "Yendira Ee Panchayithi", a beautiful love story set in a village backdrop with some thrilling elements, is getting ready for release. Pradeep Kumar. M is producing this movie under the banner of Prabhat Creations, while Gangadhara. T is making his debut as a director. Bharat and Vishika Laxman are making their debut as a hero and heroine. It is known that the title logo, glimpses, and songs released from this film have received a positive response.
The recently released teaser also impressed everyone. Particularly, the song sung by Sunitha moved everyone. The song which is a touching tribute to the love of a father was liked by one and all. The unit has been promoting the movie aggressively to increase interest in the film.
Freshly, the makers have announced the release date of the film. They are planning to release this movie on a grand scale on October 6th.
Satish Masam is the cinematographer, while PR (Peddapalli Rohit) scored the music. JP is the editor for this movie, while Venkat Palwai and Priyanka Erukala penned the dialogues. Kasi Vishwanath, Totapalli Madhu, Ravi Varma, Prem Sagar, Sameer, Vijay and Chittoor's Teja played important roles in this movie.
Technical Crew:
Banner: Prabhat Creations
Producer: Pradeep Kumar. M
Director: Gangadhara. T
Cameraman: Satish Masam
Music: PR (Peddapally Rohit)
Dialogues: Venkat Palvai, Priyanka Erukala
Editor: JP
DI: PVB Bhushan
PRO: Sai Satish, Rambabu