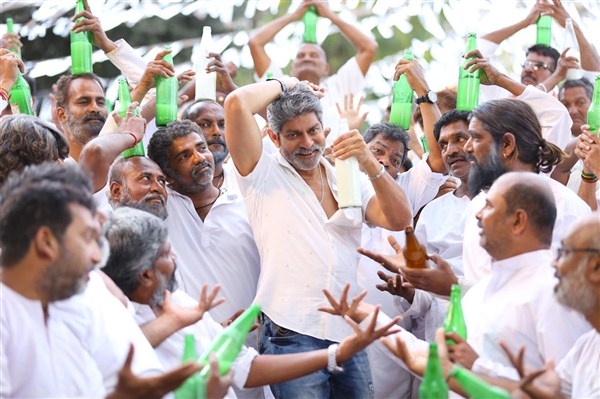 As part of the praiseworthy initiative of FCUK (Father Chitti Uma Karthik) movie team to release the songs by real world stars of the pandemic instead of the reel world stars the second song is scheduled to be released tomm. After the ripples created by the release of first song vocal by acclaimed Covid Worrior Dr. Gurva Reddy, the second song is being released by health and muncipal workers who braved the lockdown to keep the essential services running and ensuring sanitation and health services were uninterrupted. They will be releasing the song 'Nenem cheyya'. The poster announcing the same apart from showing the real Covid heroes also shows actor Jagapati Babu grooving to the song in the movie. This shows that the song is filmed on Jagapati Babu Garu and it is a song to look forward to.
Sri Ranjith Movies and its FCUK movie team took the initiative to release the songs vocals by covid warriors as a small token of gratitude. As part of this initiative health, muncipal, police and media personnel are being involved in the release of the movie songs.
Jagapatibabu, Karthik, Ammu Abhirami, Ali, Daggubati Raja, Kalyani Natarajan, Brahmaji, Krishna Bhagavaan, Rajitha, Jabardast Ram Prasad, Naveen, Venky, Raghava, Bharat etc.
Dialogues: Aditya,Karunakar,
Cinematography: Shiva.G
Music Director: Bheems Ceciroleo
Songs: Aditya, Karunakar, Bheems
Editing: Kishore Maddali
Art Director: J.k. Murthy
Story-Screenplay-Choreography-Direction: Vidyasagar Raju
Producer: KL Damodar Prasad
PRO: L.Venugopal