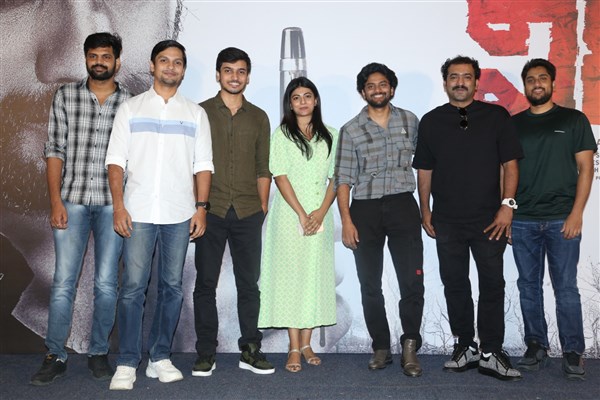 Starring Rohit Nanda and Anandi in lead roles, Ranjith S producing the film Vidhi under No Idea Entertainment. This movie written and directed by Srikanth Ranganathan and Srinath Ranganathan and Sri Charan Pakala is providing music for this movie. Srinath Ranganathan worked as cinematographer. Recently, the first look of the film was launched in a grand event. On this occasion,
Producer Ranjith said that `Vidhi" is coming with a different concept. This film will impress all the audience."
Hero Rohit Nanda said, "Vidhi" making journey is very special for us. We are bringing this movie to the audience with audio descriptive technology. Even blind people can experience this movie. Sri Charan Pakala gave excellent music and background score. We are also going to show this movie to the visually challenged people. There are about ten lakh blind people in two Telugu states. 90 percent of them may not have been to the theatres. They all can go to the theater and enjoy this movie. Evidence Foundation, Delhi has helped develop this app. Srikanth and Srinath were introduced through YouTube. I worked comfortably with Anandi. Sri Charan has given the classic music. Thanks to everyone who worked for our film.
Director and cameraman Srinath said, 'Before coming to films, I worked in the media. From there I got into movies. I want the media to consider this movie as their own and take it forward. Thanks to the producer Ranjith for giving us a chance.
Director Srikanth said, 'Vidhi is our first film. It means it's our first lover. There are many memories. I will tell you all that in future events. Thanks to God and our team for giving us this opportunity. Small film makers like us need media support and we expect lot of love from you. During the writing time, both my brothers had fights. Fights are natural between brothers and sisters. But when he came to the sets, he was just professional and acted like nothing happened..
Heroine Anandi said, "Thanks to producer Ranjith for giving me a chance. Our producer gives chance to debutants and talented people. Vidhi movie is going to be very new. Happy to be a part of such a good project. I should have acted with Rohit many years ago. But I missed the chance and now we are both worked for this film. "Fate not only entertains but also thrills everyone."
Shri Charan Pakala said, 'I did an independent song with Rohit. After that he introduced me to his brother Ranjith. Rohit is a good dancer. Knowing that he is making a film, what kind of subject does he choose? I was so curious. Vidhi is going to be stunning. The twists in this movie are good. I have done many thrillers till now and I found this movie very interesting. I enjoyed doing background score a lot. All the best to the film team.'
Rangasthalam Mahesh said, 'I have known Rohit since eleven years. Vidhi movie has good twists. Audience will like the movie.'