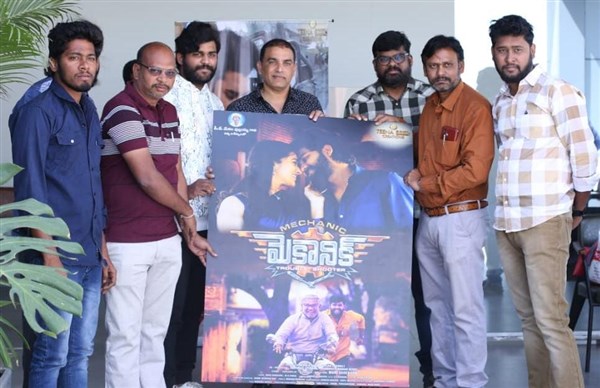 Eminent Producer Dil Raju released "MECHANIC" movie motion poster and wished the team all the very best. M.Naga Munaiah aka Munna producing this unique movie under Teenasri Creations. It's tagline is "Trouble Shooter". Famous Director Krishna Vamsi associate Muni Sahekara is debuting as director with this movie. Kondrasi Upender and Nandhipati Sridhar Reddy co-producing it.
Mechanic" team thanked Dil Raju for releasing their movie motion poster despite his very busy schedule. Mani Sai Teja enacting title role in this movie, while Rekha Nirosha playing his love interest. This movie which is being bankrolled in the backdrop of village atmosphere with "out and out" commercial elements is presently in post production.
Senior actors Thanikella Bharani, Naga Mahesh, Surya, Chatrapathi Sekhar, Sandhya Jhanak, Sunitha Manohar, Sammeta Gandhi, Veera Shankar (Director), Lab Sharath, Master Chakri, Jabardast Phani, Jabardast Dorababu, kireeti Dhamaraju, Bindas Bhaskar etc playing other important roles. Technicians of this film are.. Pro: Dheeraj-Appaji, Music: Vinod Yajamanya, Singers: Sid Sriram, Kailash Kher, Camera: S.V.Shivaram, Editor: Shiva Sharvani, Lyrics: Muni Sahekara – M.N.Simha, Fights: Dragon Prakash, Dance: Ganesh Master – Kapil Master, Production Executive: Srinivaasarao Bandi, Co- Director: Thota Srikanth, Co-Producers: Kondrasi Upender – Nandhipati Sridhar Reddy, Producer: M.Naga Munaiah (Munna), Story-Screenplay- Dialogues – Ditlrection: Muni Sahekara!!