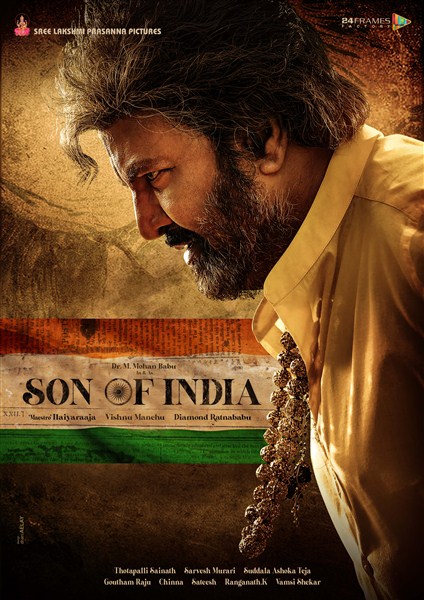 One of Indian cinema's most versatile actors, Dr Mohan Babu, who has an in-depth knowledge of each department in filmmaking, is playing a never-seen-before powerful role, besides providing screenplay for his ambitious project Son Of India.
First look poster of the film has been dropped today and it presents Dr Mohan Babu in an intense avatar with wrath in his eyes. He is seen wearing rudraksha mala here.
It is evident that, Mohan Babu tries a completely different getup with new hairdo and even grew beard for the role. Needless to say, it is one of the best looks of Mohan Babu in his decades of film career and the first look poster raised expectations on the film to the next level.
Directed by Diamond Ratnababu, the storyline and genre are first of its kind in Tollywood. It's the joint production venture of Sree Lakshmi Prasanna Pictures and 24 Frames Factory.
Vishnu Manchu's wife and Mohan Babu's daughter-in-law Viranica Manchu turns stylist with the film and she will be presenting Mohan Babu in a completely new avatar.
Maestro Ilayaraja scores music for the film, while Sarvesh Murari is the cinematographer.
The film has dialogues by Diamond Ratnababu and Thotapalli Sainath. Suddala Ashoka Teja pens lyrics, while Gautham Raju is the editor and Chinna is the art director.
Cast: Dr M Mohan Babu
Story And Director: Diamond Ratnababu
Screenplay: Dr M Mohan Babu
Producer: Vishnu Manchu
Banners: Sree Lakshmi Prasanna Pictures and 24 Frames Factory
Music Director: Maestro Ilayaraja
DOP: Sarvesh Murari
Dialogues: Diamond Ratnababu and Thotapalli Sainath
Stylist (Dr M Mohan Babu): Viranica Manchu
Lyrics: Suddala Ashoka Teja
Art Director: Chinna
Editor: Gautham Raju
Pro: Vamsi – Shekar
9581799555 – 9553955385