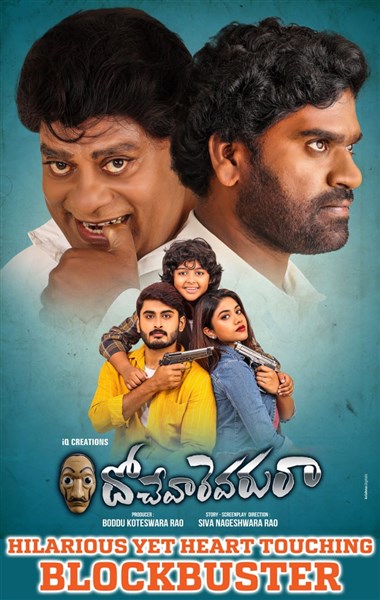 Film: Dochevarevarura
Release Date: March 11, 2023
Starring: Ajay Ghosh, Child artist Chakri, Bithiri Satthi, Pranava Chandra, Malavika, Sateesan, Benarji, Tanikella Bharani and Kota Srinivasa Rao, and others
Director: Siva Nageswara Rao
Producer: Boddu Koteswara Rao
Music Director: Rohith Varrdhan and Karthik
Cinematography: Arli
Editor: Siva Y Prasad
Moviemanthra.com;Rating: 3/5
Dochevarevarura, directed by renowned filmmaker Siva Nageswara Rao who is known for his movies Money and Sisindri, has hit the theatres after a long time.
Story:
The story follows Siddhu Sr. (Pranava Chandra) and Siddhu Jr. (child artiste Chakri), who steal to make a living. Siddhu Sr. falls in love with Lucky (Malavika Sateesan) and decides to help her solve her problems. Meanwhile, Vimal (Ajay Ghosh) hires PK Satthi (Bithiri Satthi) to kill his wife, Parvathy (Pranavi Sadhanala). The film explores the reasons behind Vimal's plan and the connection between Satthi and Siddhu.
Performances:
The film's biggest strength is its focus on the villain and his backstory, which is crucial to the story. Ajay Ghosh's portrayal of a hero in a dual role adds to the interest factor in the second half. Pranava Chandra and Malavika Sateesan perform well in their respective roles, and child artiste Chakri delivers his best with his impressive dialogue and impeccable comic timing. Sadhanala's performance also evokes laughter, particularly in the second half. The rest of the cast made their presence felt.
Technical Aspects:
Regarding technical aspects, the cinematography and background score is perfect, while a few tracks by Rohith Varrdhan are good to listen to. The editing could have been better, as many scenes could have been trimmed. But the film's flow and pace are good. The dialogues are excellent. The director did a very good job conceiving a successful story like this. The production values are satisfactory, and the dubbing and DI also came out well. On the whole, the technical team did its best.
Plus Points:
Comedy
Performance
Direction
Production Values
Minus Points:
Few boring scenes
Verdict:
The film's most vital points lie in its extraordinary and original storyline that captivated the audience. The narration is impressive and has all the necessary emotional depth, which is particularly evident in the executed emotional scenes. The director focused more on the supporting characters played by Bithiri Satthi, Benarji, and Tanikella Bharani, who are utilized well in the film. Overall, Dochevarevarura is a terrific film that will leave a lasting impression. While a few comedy scenes provide some entertainment, it also has good emotion. The director did a very good job, and the producer supported it nicely.
Punch Line: Dochevarevaru Ra is a laugh riot.