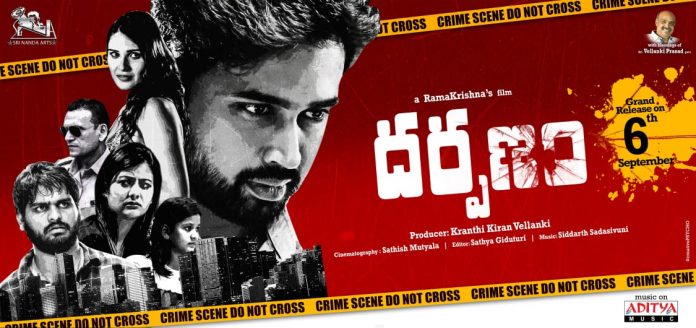 Film: Darpanam
Rating: 3/5
After the successful suspense crime thriller Evaru, we have another interesting project now titled as Darpanam. The movie is said to be interesting in many ways. The film is said to be a thriller that has got a unique story. The film had Tanishk Reddy and Alexias as the leads. Ramakrishna Vempa is the director of the movie. Sri Nanda Arts produced the movie. Kranthi Kiran Vellanki is the producer of the movie. The film released today and read on the review of the film.
Story:
Karthik (Tanishk Reddy) leads a happy life with three friends. He is a small-time petty thief. One day, he enters a bungalow where Kavya (Subhangi Panth) is murdered along with four other people. Karthik plans to save one of them but fails to do so because of his friends. After that, Karthik's lover Madhu (Alexias) is haunted by a ghost. Who is the ghost? Why did the murder happen? Why is Karthik related to all this? Forms the story of the movie.
Performances:
The film has Tanishk Reddy as a hero and he played it all well in the movie. His dialogue delivery is impressive and at the same time, he danced well too. All the actors have played their part very well. The actor who is seen as a police officer is also nice. Alexias is impressive with the performance and at the same time, Subhangi Panth is good too. Shankar who played the villain is good as well. The rest of the cast is good and they all performed well.
Technical Aspects:
The director Rama Krishna wrote an interesting suspense crime thriller story that will engage the audiences. The plot is good. The screenplay is nice. The music is good too. The cinematography is rich. The visual effects have come out well too. The producers spent lavishly on the movie. The editing is okay too. On the whole, the movie is impressive. The technical team did their best.
Plus Points:
Story Line
Performances
Camera Work
Music
Minus Points:
Few Dragged Scenes
Verdict:
The film is an interesting suspense thriller. The first half of the movie has a good story and audiences will get involved in it completely. The director narrated the story very well. There is also a mystery angle to the film's story. The film is interesting to find how these end up with the murder and the ghost angle seems to be interesting too. The director is successful in creating enough curiosity on the movie. The film is an incident-based movie and the director did it very well. The horror genre has come out really well in the movie and those elements worked well.
Punch Line: Darpanam is a Engaging Suspense Thriller