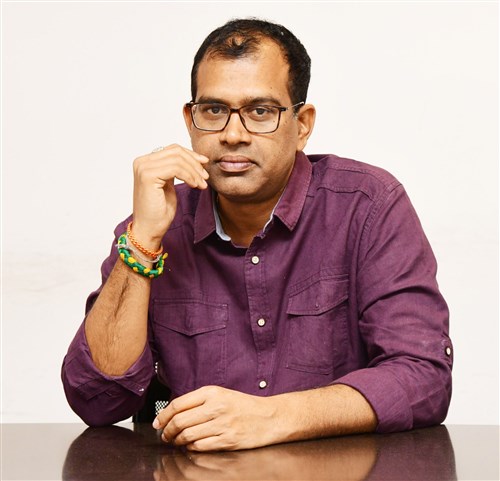 Butta Bomma is all set for a big release on February 04, 2023. Sithara Entertainments and Fortune Four Cinemas bankrolled this project and it's going to be a perfect entertainer for the upcoming long weekend. The movie has Anikha Surendran, Surya Vashistta and Arjun Das in the lead roles and is helmed by debutant director Sowri Chandrasekhar Ramesh. Director Ramesh worked with big directors in the past and this is his first film as a director.
Here are the excerpts from director Shourie Chandrasekhar T Ramesh's interaction with media.
On your journey in the movie world
I did MBA in Marketing and I had a passion in cinema. I always believed to have basic education before taking a plunge into the movie world. I started my journey with Varma Corporation and worked under director E Nivas for films such as Shool, Love ke Liye Kuch Bhi Karega, Bardaasht, and Dum. When my father passed away, I had to come to my hometown and later joined Sukumar's team and worked from Jagadam to Pushpa 2. My idea loves movies a lot and used to take me to a lot of films. Chandrasekhar is my dad's name and I have included it in my name. I want my dad's name to appear on screen as he is my inspiration.
On the script idea
I happened to see the Malayalam original and liked the movie a lot and wanted to remake it in Telugu. This is a script-based film and can be remade into other languages. So, I adapted it into Telugu. When Sithara remade Ayyappanum Koshiyum as Bheemla Nayak, I loved their approach to the film. Navin Nooli is the editor for many Sithara films and I asked him for a possibility to direct the film and the collaboration happened.
On the casting
We needed an actress who can play an innocent character. I saw Anika in Gautham Vasudev Menon web series and wanted to cast her in Butta Bomma. Arjun Das is purely Vamshi's choice and Surya came through an audition.
On changes made to Butta Bomma
Our Telugu culture, comedy and emotions are different, so we changed nuances but didn't change the universal point that appeals to all. You can see some good change in the first half. I bet when the Malayalam director watches the Telugu version, he will be surprised at this change.
Of the 3 actors, who will hog the limelight
All the 3 actors – Anika, Arjun, Surya have author-backed characters. I am confident that all the three will fly high once the film releases. Arjun Das is familiar to Telugu audience and he will leave a mark with his base voice.
On choosing the title Butta Bomma
The movie starts as a love story and shifts gears to a thriller. There is a concept running in the film. Then we decided to go with a popular song as it justifies it and also will have a good recall value.
Do you believe that Romantic films are risky?
Any film depends on its merit. You have to make a genuine film and connect with the audience. That really makes a movie successful. Butta Bomma falls under Romantic thriller genre so it satisfies lovers of different genres.
On the importance of music
Gopi Sunder did one song and background music for the film. Sweekar Agasthi composes two songs. The background score is wonderful and lifts the mood of the film.
On Best compliment
Chinna Babu gave a compliment on the tweaks made to the screenplay. I consider that to be the best compliment.
On the next film project
My next will be an action film. And my next film is purely dependant on Butta Bomma's performance. I don't have reservations on producers and actors, and would love to work with anyone.