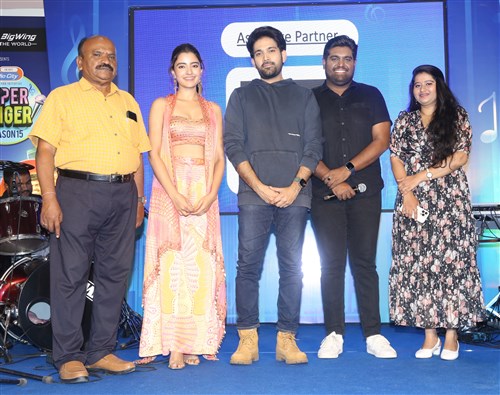 Big budgeted prestigious film 'Spark L.I.F.E' introducing young hero Vikranth to the Telugu film industry. Vikranth who is making his acting debut as Hero has also written the story and screenplay for the film. Mehreen Pirzada and Rukshar Dhillon are the female leads. A film by Deaf Frog Productions.
Hesham Abdul Wahab of 'Hridayam' and Kushi fame is scoring the music for this movie which is being made under the banner of Deaf Frog Productions. Malayalam veteran actor Guru Somasundaram playing the villain. The film will be releasing in theatres on November 17th in 5 languages. The recently released trailer is causing a stir on YouTube and has boosted anticipation for the film.
The film's third song, "Gnapakalu," a wonderful melody, was released today. Keeping the pace going, Hesham presented an instantly addicting melody. The magnificent composition, soulfully rendered by Hesham himself and Krishna lasya Mutyala, will leave a mark on everyone's heart.
The sweet moments between Vikranth and Rukshar while they are in love will be expressed in Ananth Sriram lyrics. The lyrics are powerful. The wonderful chemistry of Vikranth and Rukshar is a highlight of the song. The visuals in the lovely areas are breathtaking.
The film boasts stellar cast Nasser, Suhasini Maniratnam, Vennela Kishore, Satya, Brahmaji, Srikanth Iyyengar, Chammak Chandra, Annapurnamma, Raja Ravindra. The film will be releasing in Telugu, Tamil, Hindi, Kannada and Malayalam languages.
Song Link: https://www.youtube.com/watch?v=DHo5dO7FExQ