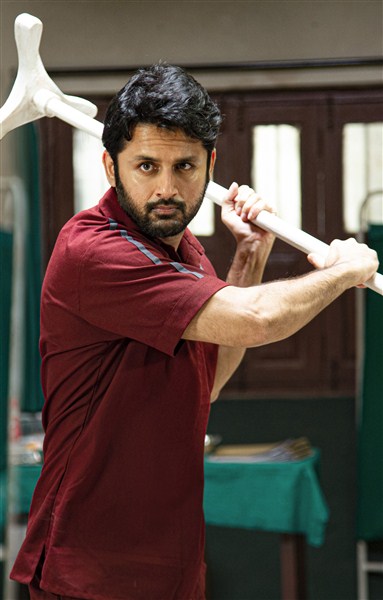 Hero Nitin is joined by Rakul Preet Singh and Priya Prakash Warrior as the female leads, directedby Chandrasekhar Yeleti produced by V.Anand Prasad.The first glimpse of the film is released on Sunday, which is 40 seconds long, revealed some interesting dimensions of the film.
Producer V. Anand Prasad said, ''The combination of Nitin and Chandrasekhar will surely exceeds expectations of the fans. The shooting is wrapped up and currently re-recording is being done. After 'Aite', – This is the Chandrasekhar Yeleti – Kalyani Malik combination film. The output is excellent. Release details will be revealed soon. "
Director Chandrasekhar Yeleti said "This is the story of a prisoner who was hanged….!!!"
The film stars Nitin, Rakul Preet Singh, Priya Prakash Warrior, Posani Krishna Murali, Murali Sharma, Tripuraneni Saichand, Sampath Raj, Harshavardhan, Rohit Pathak, Simran Chowdhury among others.
Music: Kalyani Malik,
Cinematography: Rahul Srivastava,
Art: Vivek Annamalai,
Editing: Anal Aniruddhan,
Executive Producer: Anne Ravi, Producer: V. Anand Prasad,
Story – Screenplay – Direction: Chandrasekhar Yeleti. 
PRO ; PULGAM CHINNARAYANA