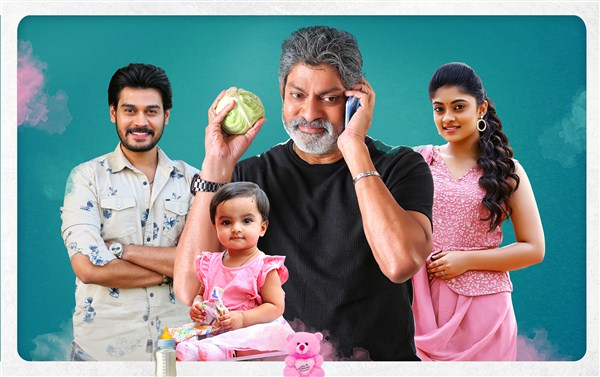 Sri Ranjith Movies today announced that this Saturday which is the 6th of February FCUK (Father Chitti Uma Karthik) movie Barasala Function will be held. The announcement is creating lot of intrigue as to what is Barasala Function will be. Finally Telugu audiences may get to see the first visuals of the much awaited FCUK (Father Chitti Uma Karthik)movie as A poster was released today announcing the date of this 'pre-release' event as 6th February 2021. Until now the only visuals of the movie released have been the teaser and AV's about each of the character. However these visuals took the telugu audiences by storm and much expectation has been created about the film which Stars Jagapathi Babu, Ram Karthik and Ammu Abhirami. The movie is scheduled to be released on February 12th.
'FCUK' (Father Chitti Uma Karthik) has become the popular acronym for the actual title of the movie, 'Father Chitti Umaa Kaarthik'. Projected as a Romantic Comedy the movie presents Jagapathi Babu in a titular role after a long gap and this is bringing back memories of Jagapathi Babu stellar performances as a Romantic performer. The music of the movie has been composed by Bheems Ceciroleo and the songs have been released by various Covid heroes like Health, Muncipal, Police and Media Personnel which has brought a lot of appreciation to the movie team. FCUK (Father Chitti Uma Karthik) has been produced by K L Damodar Prasad and directed by Vidyasagar Raju.
Jagapatibabu, Karthik, Ammu Abhirami, Ali, Daggubati Raja, Kalyani Natarajan, Brahmaji, Krishna Bhagavaan, Rajitha, Jabardast Ram Prasad, Naveen, Venky, Raghava, Bharat etc.
Dialogues: Aditya,Karunakar,
Cinematography: Shiva.G
Music Director: Bheems Ceciroleo
Songs: Aditya, Karunakar, Bheems
Editing: Kishore Maddali
Art Director: J.k. Murthy
PRO: L.Venugopal
Story-Screenplay-Choreography-Direction: Vidyasagar Raju
Producer: KL Damodar Prasad
L.VENUGOPAL
journalist, P.R.O
+91 9949912346