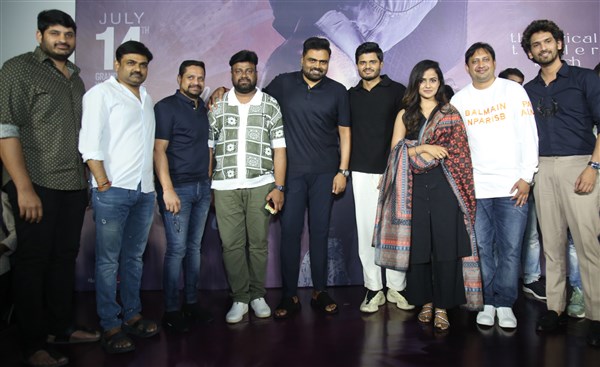 Baby is the upcoming film of Anand Deverakonda. Vaishnavi Chaitanya is making her debut as the lead actress with this film. Sai Rajesh, the story writer and producer for the national award-winning film Colour Photo, is the director for this film. Producer SKN bankrolled this dilm under Mass Movie Makers. The teaser and songs are mesmerized the audience. Now today makers launched the Trailer in a grand event. On this occasion,
Director Vamsi Paidipalli said, 'I am overjoyed to watch SKN's growth. The team delivered an excellent trailer. I knew Viraj and Anand before they became artists. Vijay Deverakonda started the industry with a passion, not to become a hero, and Anand did the same. I got into the industry because to Viraj's uncles, Marthand K Venkatesh and Marthand K Shankar. Vaishnavi Chaitanya performed admirably. Maruti exudes courage whenever you see him. Bunny Vass makes anything possible in the industry. After the release of Baby, Sai Rajesh would be celebrated even more. 'On July 14, the entire team will celebrate the festival,' he stated.
SKN said, 'SKN doesn't have caste or money, he has only good friendship. Bunny Vass, Maruti and Allu Arvind are my strength. Maruthi garu directed many blockbusters. I wanted to make a film with him. I wanted to become a producer to introduce talented people among my friends as directors. Maruthi garu now stands as my backbone. Sai Rajesh and I are fans of Chiranjeevi. Sai Rajesh is a creator and I know his power. I became a producer to make my friend a director.
Rowdy star Vijay Deverakonda stood by side all the time. He gave me a chance to film eith him Taxiwala. At that time I said that I will make Anand a hero and make a film. At the same time, Sai Rajesh narrated the story of Baby. I said that if Taxiwala becomes a hit, I will make this film. Bunny Vass also heard the story. His judgment is good. He said it was so good. Due to Corona, the film has been delayed.
He added "This story needs another hero. We took chocolate boy Viraj Ashwin. I think that Telugu girls and Telugu heroines should be in the movies I make. I saw Vaishnavi in a small scene in Ala Vaikunthapurramuloo. I liked her very much. That is why we cast Vaishnavi for this film. Thanks to Vamsi Paidipally for coming to the event. He becme successful director in Tamil too. Adidha Vamsi Paidipally. Vijay Bulganin gave his life for the songs. He did not make music its all magic. DOP Bal Reddy gave excellent visuals. I make films with my friends. That's enough for me. I did not become a producer to make money. It will take some time to be successful but be patient. If we have fire, we will succeed. The industry does not belong to anyone. Today is not my birthday, it's my baby's trailer day. Everyone watch the movie on July 14th and bless us," he said.
Bunny Vass said, "I saw the movie 7/G Brindavan Colony a week ago. Baby film will give that feel to this generation now. It takes guts to make a film like this. If the directors have the courage to make such films. Ee Rojullo was a cult film, now Baby is going to be cult film. Our friendship has won now. A man named Allu Arjun was standing behind us. The reason we are standing like this now is another person Vijay Devarakonda.
After the Pelli choopulu, he believed in SKN and made a film Taxiwala. Seeing the fire in him, I chose him for Geetha Govindam. He knew that Sai Rajesh could create a miracle, when he heard the story. But I was shocked by Anand's performance. Does he have this much depth? I was surprised. Our baby Vaishnavi and Viraj Ashwin acted brilliantly. Vijay Bulganin has given excellent music. Everyone who worked for the film gets a good name. This movie becomes a cult trend. Thanks to Vamsi Paidipally who came to the event and supported us.
Maruthi said, ' Premiste and 7/G Brindavan Colony kind of films can be made here in Telugu? But Sai Rajesh made such a movie after many years. It is not a common thing to make such a good movie with three characters, making us laugh and cry.. I was shocked after watching the whole movie. I can say that such a good movie has not come out in recent times. You can bravely watch this movie with your family. Anand, Vaishnavi and Viraj acted brilliantly. They will make you come out of the theatre in tears. Thanks to Sai Rajesh for giving such a good movie to our mass movie makers. My friend SKN takes good care of everyone. I wish he makes a good film like this for his birthday every year', he said.
Director Sai Rajesh said, 'Baby movie is coming on July 14. I definitely made a good movie. When Maruthi garu and Bunny Vass garu saw the first copy, they asked me Do you write this well? Is there such a depth in your writing? and Allu Aravind garu asked "Can you direct this well"? It was my friend SKN who believed in me before making the film. I can say that Baby brings respect to the producer. He noticed my talent and gave me a chance. This is a lifetime opportunity for me. With this movie, his journey will go to the next level. Thanks to Vamsi Paidipally garu for coming to this event. Everyone should watch the movie on July 14', he said.
Anand Devarakonda said, 'After watching the movie, it haunts everyone for a week. Songs and dialogues are all haunting. Everyone gave thier life and made the film. We should be proud that we found another solid writer and great director, Sai Rajesh anna. Sai Rajesh believed in my acting potential. I got emotional just watching his dialogues and writing. On July 14th we will touch everyone's hearts. Baby will make you all laugh and cry. Thanks to Vamsi Anna for coming to the event', he said.
Viraj Ashwin said 'I swa the trailer for the first time with all of you. After watching the trailer I felt like this is my movie, our movie. The writer and director of this movie has written it in a very hard hitting story. Everyone will connect with characters. I can say that for sure. Thanks to Vamsi Paidipalli garu who came to the event to bless us.'
Vaishnavi Chaitanya said, 'Thanks to Vamsi Paidipally sir and Maruti sir for coming to the event. We have just seen the trailer along with the audience. So many love stories? You may ask why we should watch this movie. You should watch it because have shown reality in Baby. We have shown what happens in everyone's life. Everyone connects to every character. Rarely actors get such characters with so much depth. Thanks to Maruti and Sai Rajesh for giving me such a good opportunity,' he said.